After seeing the impact of global poverty first-hand, Emmy-award winning actress Patricia Heaton partnered with World Vision to create a wearable reminder of the power of hope this holiday season for the Christian humanitarian organization's Gift Catalog.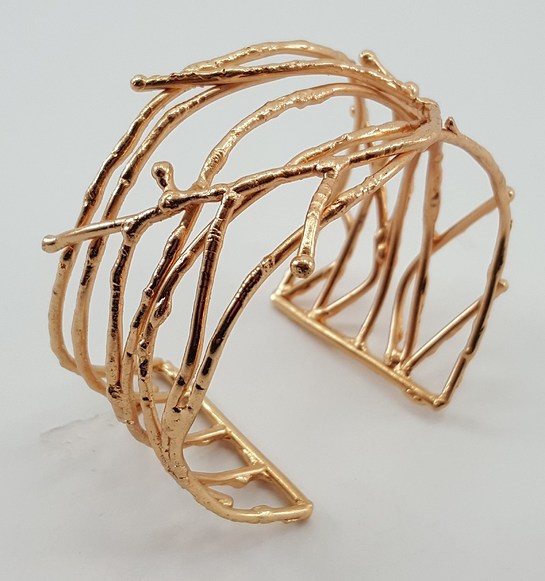 With every donation of $100 or more to World Vision's "Where Most Needed" fund, donors can choose to receive the Hope Bracelet by Patricia Heaton, which is made by fair trade artisans in India, as a meaningful memento of their gift. The fund addresses specific, urgent needs in World Vision's humanitarian work that might otherwise go unmet without these contributions.
"The Hope Bracelet by Patricia Heaton reflects my personal style, and keeps my World Vision sponsored child, Gracious, in mind," said Heaton. "When I met Gracious in Zambia, I saw how one act of generosity can light up an entire community. My dream is that the bracelet will ignite that fire in others."
Heaton designed the gold-colored adjustable cuff with a nod to her personal style – modern, simple, and bold. To create the bangle, World Vision partnered with Gifts With a Cause, a fair-trade organization that provides a sustainable income to artists in developing countries. Each employee receives fair wages, a safe place to work, business development training, and opportunities to build long-term business relationships in their community. In addition, the artisans receive health insurance, profit-sharing through the sale of their handmade crafts, and education for their children. The Hope Bracelet by Patricia Heaton is thoughtfully created through a multi-step process involving bending, welding, smoothing, plating, and quality-checking the jewelry, and provides jobs for 20 artisans in India.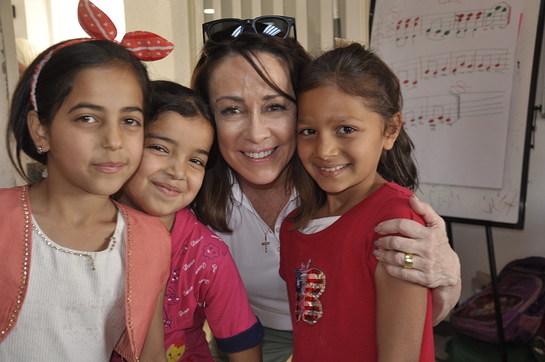 Heaton, and her co-star on ABC's "The Middle," Beau Wirick, recently traveled to Jordan with World Vision to see first-hand the Syrian refugee crisis. World Vision has been responding to the needs of those displaced by the conflicts in Syria and Iraq since 2011. Heaton and Wyrick toured one of the world's largest refugee camps, visited a Child Friendly Space supported by World Vision, and met with refugee families.
"Seeing World Vision's work in the field – first in Zambia and now in Jordan – has had a profound impact on me and my family," said Heaton. "In Jordan, it was really moving to see these families, who are just like any of us, torn out of their villages in Syria and away from their families. They're really struggling. The trip made me realize that there is a lot of work to be done, but we can all be a small part of the solution. Now, every time I wear the Hope Bracelet by Patricia Heaton I'll remember that. And I hope you will too."
The bracelet is part of World Vision's "Shine Bright, the World Needs You" holiday campaign – an effort to show Americans that generosity is contagious and that one act of kindness can create a chain-reaction of goodness across the world.
For more than 22 years, the World Vision Gift Catalog has been one of the most popular gift-giving alternatives for families across the United States. Last year, more than 112,000 Americans donated to the catalog, giving life-changing gifts such as child sponsorship, goats, clean water, food, and education to millions of people around the world and right here in the U.S.
In an interview on the World Vision Podcast earlier this year, Heaton encouraged others to support World Vision's work, saying: "We can't all be on the ground. We all have our lives, our families, our jobs…It's easy to look at all the bad news, but there is so much good work going on all over the world…Americans are very generous people, but it is hard sometimes when you look around the world and you think, 'How could I possibly help?' But you can, because World Vision is there to do the work that you want to see get done. You can choose to either feel despair about our world or hope, and there are a lot of good reasons to be hopeful."
World Vision's Gift Catalog began in 1996 with a handful of humanitarian gifts. Today, the catalog gives shoppers more than 250 tangible ways to improve the lives of children and their communities. Gifts range in price from $16 to $39,000 and can be made in a loved one's name. Shoppers also can choose to send a personalized card describing the gift and its impact.
To order from World Vision's Gift Catalog, visit www.worldvisiongifts.org or call 1-855-WV-GIFTS (1-855-984-4387). Want to see where your dollars go? Check out this video from World Vision to learn more.