It's back. The second annual Jerry Garcia Birthday Celebration is returning this year.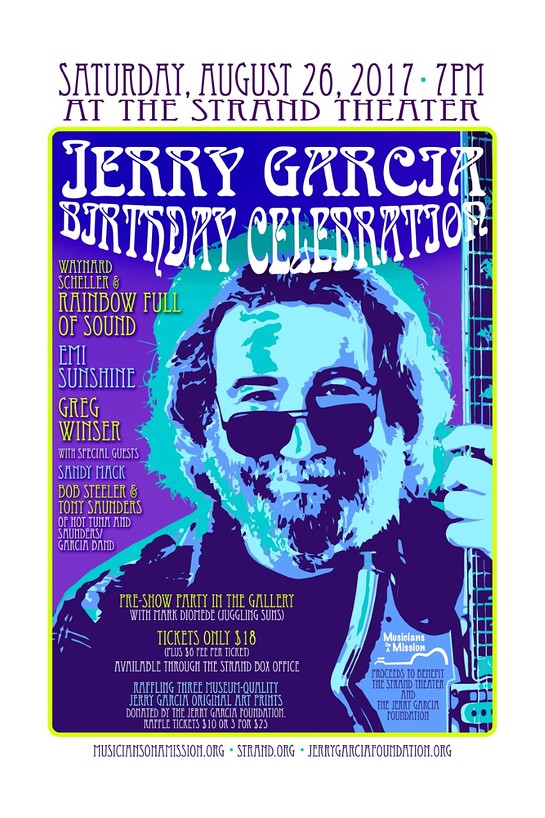 The historic Strand Theater (Lakewood, NJ) will host a very special evening celebrating the music of Jerry Garcia on Saturday, August 26.
Musicians on a Mission and the Jerry Garcia Foundation have invited guest artists from around the United states to join in the musical celebration. One of the evening's featured performers is up-and-coming music sensation EmiSunshine, the 13-year-old prodigy from East Tennessee who has captured the nation's attention and enchanted many with her musical gifts.
California native singer/songwriter Greg Winser will also headline the benefit, sharing his original blend of homegrown music. Local artists Mark Diomede and Sandy Mack will entertain the audience, along with Waynard Scheller and Rainbow Full of Sound.
A special reunion of the Jerry Garcia-Merl Saunders Band rhythm section, featuring Bob Steeler on percussion and Merle Saunders's son, Tony Saunders on bass. Mr. Steeler was a member of Hot Tuna during its power trio years in the 1970s. Mr. Saunders performed with the Saunders/Garcia Band and, according to his website, "graduated from the prestigious Conservatory of Music in San Francisco as a piano player, but soon after began honing his skills on the bass. He was influenced by the sounds of James Jamison, Stanley Clark, Jack Cassidy and others."
The following musicians will also join the stage for this eclectic evening of music:
Corby Pryor, 19-year-old guitar prodigy; Matt Aaron, violinist; Paul Avrutin, bassist; Mike Kennedy on petal steel/rhythm guitar; Dan Donovan on drums; with gospel singers Ariel Marin, Ron Rosson and Dawaun King.
"We are very grateful to Musicians on a Mission and to all of the gifted musicians coming together to share their artistry in honor of my father," said Keelin Garcia, cofounder of the Jerry Garcia Foundation.
In addition, the Jerry Garcia Foundation will present a collective art project during the concert's preshow reception at 7:00 p.m. Audience members will be invited to color a giant coloring book page image of Jerry Garcia's painting titled Seascape. The work will be added to a digital art collage presented in a visual light show at an upcoming ocean conservation benefit concert presented by the foundation later this year.
"It's wonderful that Jerry's art and music continue to inspire new creativity. It speaks to to the visionary spirit that is still very present," said Manasha Garcia, cofounder of the foundation.
Jerry Garcia's fine art will be offered to the public at a raffle. The three museum-quality pieces are titled Bluegrass Musician, Wetlands ll, and Wisteria.
Plan on arriving by 7:00 p.m. for a reception in the Gallery, featuring acoustic performances from members of Musicians on a Mission and a raffle of three museum-quality Jerry Garcia fine art pieces donated by the Jerry Garcia Foundation.. The Main Stage concert will be general admission and begin at 8:00 p.m. Tickets are $18 (plus a $6 convenience fee) and are available at the Strand's website event page.
Music lineup is subject to change
For further information, please visit Musicians on a Mission.