In a night that celebrated the achievements of those working to champion diversity in the advertising, marketing, PR, media and entertainment industries, ADCOLOR recognized some of the best and brightest at their 11th annual ADCOLOR Awards ceremony.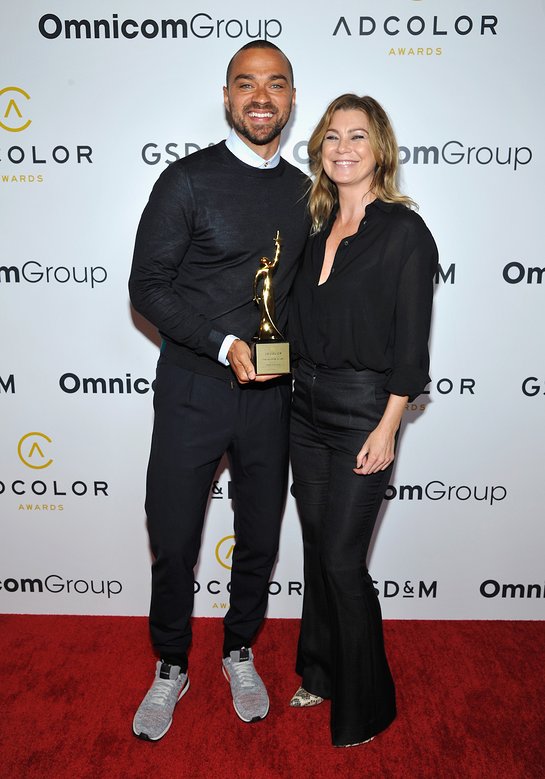 The event, hosted by actress, comedian, and activist Aisha Tyler, honored actor and producer Jesse Williams, Teen Vogue Editor-In-Chief Elaine Welteroth, star of "13 Reasons Why" and "Star Trek: Discovery" Wilson Cruz, among others. Additional attendees included presenters such as "Grey's Anatomy" star Ellen Pompeo, "Masters of None" actress and Emmy Award-winning writer Lena Waithe, actor Laz Alonso, author Janet Mock, along with ADCOLOR Founder & President Tiffany R. Warren. Later, guests toasted the winners at the official after party presented by Apple Music and BET Networks.
Each year, the ADCOLOR Award Nominees and Honorees are carefully selected from a large population of diverse influencers across the creative industries. The finalists are chosen by the individual's representation of ADCOLOR's motto, "Rise Up and Reach Back". Those honored not only excel in their own careers, but also give back to the community and support their peers. Their goal is to create a network of diverse professionals to encourage and celebrate one another.
Please see the below list of this year's honorees and winners:
ALL-STAR AWARD
An ADCOLOR All-Star is a recognized public figure who has used their celebrity to champion a cause or challenge the status quo. They have pushed boundaries and created catalytic change, setting the stage for current and future generations to take the opportunities made by this All-Star, even further.
HONOREE: Jesse Williams, Actor, Activist, and Entrepreneur
LEGEND AWARD
The ADCOLOR Legend Award is presented to a trailblazer who isn't afraid to be different and who showed brilliance in his/her actions, a singular leader in their industry.
HONOREE: Keli Lee, Managing Director, International Content and Talent at ABC Studios International
HONOREE: Nadja Bellan-White, EVP, Global Brand Management at Ogilvy & Mather
CATALYST AWARD
The ADCOLOR Catalyst Award is presented to an individual of note who uses his or her platform to serve as the voice of a cause or community. Their provocative courage, professional brilliance and selfless community outreach have sparked change and propelled progress within their respective industries and the world.
HONOREE: Elaine Welteroth, Editor-in-Chief at Teen Vogue
ADVOCATE AWARD
The ADCOLOR Advocate Award is presented to an LGBT advertising, marketing or media professional who increases awareness of LGBT causes within and outside of the creative industries.
HONOREE: Wilson Cruz, Actor & Activist, Star of "13 Reasons Why" and "Star Trek: Discovery"
ADCOLOR IN TECH AWARD
The ADCOLOR in Tech Award is presented to an individual who has championed diversity & inclusion in the tech industries.
HONOREE: Erin Teague, Virtual Reality Product Lead at YouTube
LIFETIME ACHIEVEMENT AWARD
The Lifetime Achievement Award is presented to inductees into the AAF Advertising Hall of Achievement or individuals who are seasoned industry veterans who pushed the boundaries and created positive change, setting the stage for generations to come to take the opportunities made by these icons, even further.
HONOREE: Johnson Publishing Company
HONOREE: Carol H. Williams, President, CEO and Chief Creative Officer at Carol H. Williams Advertising
ADCOLOR|ONE CLUB CREATIVE AWARD
The One Club|ADCOLOR Creative Award is presented to a creative professional of multicultural background who has demonstrated noteworthy talent and achievement within the media, creative, digital and traditional advertising disciplines. These recipients are chosen by The One Club Board of Directors.
HONOREE: Max Stinson, Creative Director at Wieden+Kennedy
HONOREE: Wells Davis, Chief Strategy Officer, Managing Partner at David & Goliath
THE AD OF THE YEAR AWARD
The ADCOLOR Ad of the Year Award is given to a campaign or single execution that pushes boundaries, promotes conversation and highlights the lives of multicultural, LGBT and/or other under-represented Americans in the mass media.
WINNER: The Atlantic / Wieden+Kennedy, New York / "Typecast"
CHANGE AGENT AWARD
The ADCOLOR Change Agent Award is presented to an individual within a company who is using their talents and position to enhance the corporate culture and create a more inclusive environment. This can be part of or beyond the scope of that person's primary role.
WINNER: Ronnie Dickerson Stewart, VP, Group Director- Talent Engagement & Inclusion, DigitasLBi, NA
INNOVATOR AWARD
The ADCOLOR Innovator Awards is presented to a remarkable professional who embodies progress and imagination. Someone who stands out among peers as a game changer and pioneer in their role, creating breakthrough developments and/or improvements, whether tangible or intangible.
WINNER: Morgan DeBaun, CEO, Blavity Inc.
ROCKSTAR AWARD
The ADCOLOR Rock Star Award is presented to an outstanding professional who, whether through their primary role or extracurricular activities, stands out as a leader and visionary in the industry.
WINNER: Kofi Amoo-Gottfried, Head of Consumer Marketing, Facebook
RISING STAR AWARD
The ADCOLOR Rising Star Award is presented to an up-and-coming young gun with less than seven years of experience. The Rising Star honoree is someone who stands out among their peers as someone who is raising the bar of excellence as they move forward in their career.
WINNER: Jessica McGlory, Associate Director, Paid Social Lead, Engine Media
MOST VALUABLE PARTNERSHIP AWARD
The ADCOLOR MVP Award is presented to two or more companies that work together to provide exceptional and highly effective diversity solutions within their organizations and industries. They may be an agency, marketer, media company or diverse supplier with NMSDC or WBENC certification that team up for short or long-term projects that promote diversity and inclusion in the creative industries.
WINNER: Wieden+Kennedy & Courageous Conversation