Prince Harry attended the closing ceremony of the third Invictus Games in Toronto last week.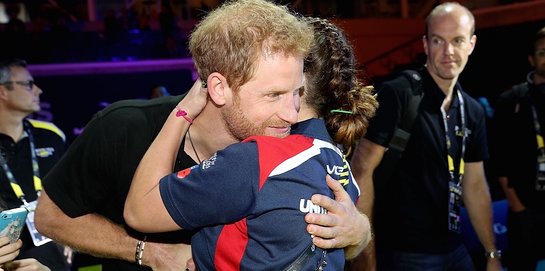 This year was the biggest yet, involving 17 nations and over 550 competitors.
Prince Harry founded the international sporting event in 2014 after a visit to the US-based Warrior Games. Seeing the amazing affect the competition had on wounded, injured and sick service men and women and their families, inspired Prince Harry to expand the concept into an international version, involving soldiers from across the world. HRH served in the Army for ten years, rising to the rank of Captain and undertaking two tours of Afghanistan and has since become passionate about the lives of servicemen and women.
"You have delivered the biggest Invictus Games yet, with the most incredible atmosphere, making our competitors feel like the stars they are' said Prince Harry in his closing speech. He also urged spectators and competitors to carry the spirit of the games home with them. 'Make a plan about how you are going to use the experience of this week, to help lift up all those around you. It might be something big, like starting a new project for young people. Or, it might be something small, like reconnecting with an old friend. It doesn't matter how big or small your step is – just take it."
The word 'Invictus' meaning unconquered embodies the fighting spirit of the wounded, injured and sick service personnel and what these tenacious men and women can achieve, post injury.
All week in Toronto, 550 competitors from all over the world were taking part in 12 adaptive sports – Prince Harry was in Toronto to watch them, all as well as meeting some of the competitors, their supporters and handing out medals to winners.
A focus for the games this year was the importance of friends and family, and recognising the vital support they give to loved ones recovering from injury. The Prince met the UK team earlier this year at The Tower of London.
During his time in Toronto, Prince Harry also held bilateral meetings with David Johnson, The Governor General of Canada, The Prime Minister of Canada Justin Trudeau, and the First Lady of the United States, Melania Trump, who was leading the USA team delegation of the Invictus Games.
Prince Harry spoke during #WEDay Toronto and at the Canadian Institute for Military and Veteran Health Research Conference, where academics share their research and ideas to improve care for members of the Canadian Armed Forces and their families. HRH was also joined by Former President Barack Obama, former second lady of the U.S. Jill Biden and Former Vice President of the U.S. Joe Biden to watch wheelchair basketball.
The 2018 Invictus Games will be held in Sydney, Australia.
Source: Royal.uk