Actor/Humanitarian Gary Sinise and the Gary Sinise Foundation's Relief & Resiliency Outreach program put together a multi-day Hollywood Adventure! to pay tribute to surviving military spouses of fallen service members.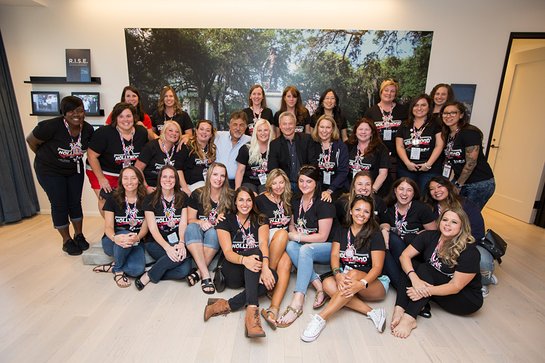 The Gary Sinise Foundation worked with TAPS (Tragedy Assistance Program for Survivors) to bring 24 widows to Hollywood for three fun filled days thanks to the help of Gary Sinise Foundation's official airline sponsor American Airlines.
"I am continually inspired when I am fortunate enough to be in the presence of our remarkable Gold Star Families," said Sinise. "It is our honor at the Gary Sinise Foundation to partner with TAPS to create a fun Hollywood Adventure! for these spouses who lost a fallen service member. I truly hope that these last few days have helped them on their road to healing and that they know that the service of their loved one has not gone, nor will it ever, be forgotten."
"The TAPS family is so very grateful for the dedication of Gary Sinise to our military families and the work done by his Foundation in support of those whose lives include selfless service to our country," said Bonnie Carroll, TAPS President and Founder and 2015 Presidential Medal of Freedom recipient. "The Hollywood Adventure! provides those who have sacrificed so much with the comfort of knowing our loved ones are not forgotten as well as the support from others who care so no one has to experience grief alone."
The Foundation, along with the assistance of TAPS, rolled out the red carpet for the spouses, who arrived Monday morning at the Universal Hilton. They were treated to three days of fun and surprises, including a day at Universal Studios Theme Park, and meals at Bubba Gump Shrimp Co. and Wood Ranch BBQ & Grill. The spouses experienced a Disney Studio tour, visited the set, met and enjoyed lunch with cast members from Scandal. They also toured the set of How to Get Away with Murder, attended The Late Late Show with James Corden, walked around the Los Angeles Original Farmers Market at The Grove, and were treated to hair blowouts at The Canyon Salon. On their final day, they visited the offices of the Gary Sinise Foundation where they got to enjoy lunch with Gary Sinise, which also included a surprise visit from the Foundation's Ambassador Joe Mantegna. The trip culminated with a tour of Hollywood Boulevard where they got to check out the stars on the Walk of Fame and other famous landmarks. Their trip was brought to a close with a night filled with Italian food and the singing waiters at Miceli's.
The Gary Sinise Foundation's Relief & Resiliency Outreach program was established to provide complete support to those recovering from trauma, injury or loss in times of urgent need. We're also helping to heal their emotional wounds by hosting exciting events and group activities for those enduring similar struggles. By building a community of strong friendships and forming joyful, lasting memories, they can find new hopes for the future together. Lending a helping hand during difficult times can become the pivotal moment that changes a life's direction.