On November 4th, the International Myeloma Foundation (IMF) presented its 11th Annual Comedy Celebration benefiting the Peter Boyle Research Fund and supporting the Black Swan Research Initiative (BSRI) at The Wilshire Ebell Theatre in Los Angeles, CA.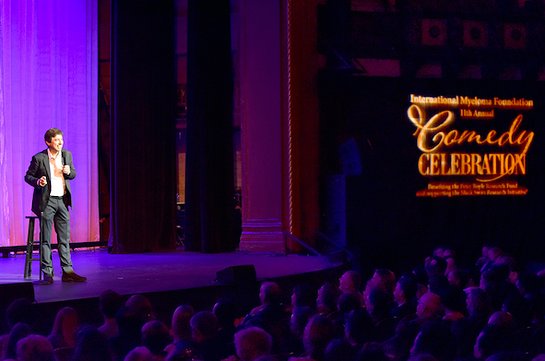 Ten-time host Ray Romano was joined by fellow comedians Hannibal Buress, Rachel Feinstein, Nikki Glaser, Robert Klein, Marc Maron, Iliza Shlesinger, and Fred Willard, who each took the stage to perform for an unforgettable evening of comedy. Veteran comedian Rene Hicks opened the show in a big way drawing huge laughs from the crowd while also sharing her personal experience with myeloma noting the healing benefits of laughter.
Additional attendees included Patricia Heaton (The Middle), Howard Hesseman (Fresh Off the Boat), Jake Smollet (Food Network's Smollett Eats), James Burrows (Director, Will & Grace), Grace Gibson (All Eyez on Me), Lanny Joon (Baby Driver), Lesley Nicol (The Catch), and Sandra Caron (Actress), plus IMF executives Dr. Brian Durie (IMF Chairman of the Board), Loraine Alterman Boyle (Event Chair & IMF Board Member), Susie Novis (IMF Founder & President) and more.
Prior to the show, attendees enjoyed a silent auction featuring iconic memorabilia and other one-of-a-kind items and experiences to benefit this important cause. Among the items featured were VIP Tickets to a Saturday Night Live taping, an autographed guitar by the Red Hot Chili Peppers, an opportunity to have Ray Romano record your voicemail greeting, and more. Select items will be available for bidding on CharityBuzz.com/IMF until November 16, 2017.
For the first time, the IMF presented an exclusive live stream of the red carpet arrivals prior to the show on the International Myeloma Foundation's Facebook page. Co-hosted by TV personality Alie Ward and Miss Black USA Daphne Lee, the live stream featured red carpet interviews with attending celebrities and myeloma experts, as well as an exclusive look into the into the silent auction display. A replay of the entire live stream can be viewed on Facebook.com/myeloma.
Proceeds from event benefit the Peter Boyle Research Fund, named for the beloved actor who died in 2006 after a four-year battle with myeloma – an incurable cancer of the bone marrow plasma cells and one of the fastest growing blood cancers in the world. Since the first event in 2007, the annual IMF Comedy Celebration has featured over 50 celebrity comedians and musical performers, and raised more than $6.5 million.
For the fifth year, the event also supports the International Myeloma Foundation's signature Black Swan Research Initiative (BSRI), a groundbreaking and collaborative global project aimed at developing the first definitive cure for myeloma. Through the Black Swan Research Initiative, the IMF is conducting 30 concurrent studies to find the cure, and is supporting studies around the world including in Iceland, Hungary, and India. Recently, the IMF achieved the unprecedented ability to launch two targeted myeloma "cure" trials — CESAR and ASCENT.