AdoptTogether is pleased to announce a 2018 partnership with Curtis Stone.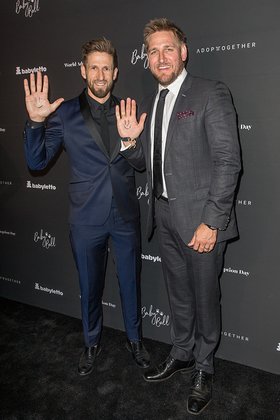 Stone is a restaurateur, New York Times best selling author, TV personality, and chef/owner of two Los Angeles based award winning, restaurants Maude and Gwen Butcher Shop & Restaurant.
Each year through his #Commit2One charity initiative, Curtis and his team pledge their time, money, and resources to an organization and champion their cause. "My previous partnerships have included the National Young Farmers Coalition that works to remove barriers of young farmers entering the agriculture field and Chrysalis, a Los Angeles based nonprofit whose mission is to give homeless and low-income individuals second chances through jobs. I'm thrilled to focus my energy and time to support AdoptTogether in 2018, as Lindsay and I are so passionate about adoption and creating families," Stone said.
AdoptTogether is the world's first and largest crowd-funding platform for adoption expenses, helping over 4000 families raise over $12.8M for adoption expenses and bring their children home forever.
Curtis & his wife, actress Lindsay Price, have been passionate supporters of AdoptTogether and their investment has helped reach prospective families, spread global awareness that adoption support is possible and helped families fund their adoptions.
Stone and his wife have also been pivotal in the movement of #WorldAdoptionDay, bringing a global celebration of adoption to the world on November 9th each year.
Stone's focus for 2018 will be to help families fund their adoptions, and bring their children home.