On November 13th 2017, LOUIS XIII Cognac premiered "100 Years" – The Song We'll Only Hear If We Care – a unique musical composition created by Pharrell Williams that will not be released until 2117.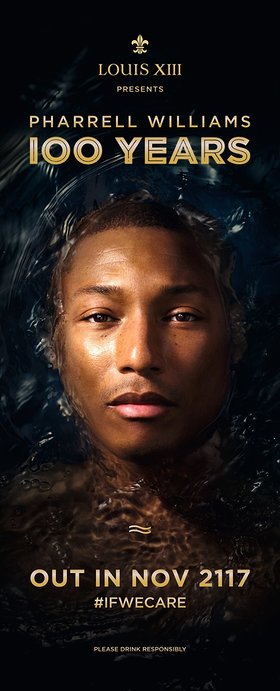 LOUIS XIII partnered with Pharrell on this innovative project due to a shared dedication to environmental issues. The original song is a creative expression of the delicate relationship between nature and time, and the effect humans have on their environment. Each decanter of LOUIS XIII represents the life achievement of generations of cellar masters, so LOUIS XIII must always think a century ahead.
Pharrell's exclusive track was recorded onto a record made of clay from the chalky soil of the Cognac region, and stored in the cellars of LOUIS XIII in a state-of-the-art safe specially designed by Fichet-Bauche that is only destructible when submerged in water. If sea levels continue to rise at such an alarming rate due to climate change, scientists project that in 100 years, a significant portion of the world's land might be underwater. The only way to guarantee this original piece of music will be heard again in 2117, one century from now, is if we address the tragic consequences of global warming – if we do not change our way of living, future generations will never be able to hear this song. "100 Years" by Pharrell Williams will be out in 2117, but only #Ifwecare.
"I love the fact that LOUIS XIII thinks a century ahead," said Pharrell Williams. "We should all do the same for the planet. We have a common interest in preserving nature for the future. Each bottle is the life achievement of generations of men and women. It's all about legacy and transmission." Pharrell has long been passionate about preserving our environment and how important human action is to addressing climate change.
"100 Years" premiered during a private listening party in Shanghai, where Pharrell presented the song one time only. The one hundred lucky guests in attendance were not allowed to record the once-in-a-lifetime experience, so the song remains a secret for the next century. LOUIS XIII and Pharrell aimed to inspire these guests to take action and motivate others to get involved in the international effort to curb global warming.
"We are incredibly proud of this innovative project," said Ludovic du Plessis, Global Executive Director of LOUIS XIII. "Nature and time are at the heart of what we do. If the environment is unstable, even the greatest cellar master would not be able to compose the exceptional blend that is LOUIS XIII. Global Warming is one of the most important issues of the 21st century; with 100 Years – The Song We'll Only Hear If We Care, we hope to inspire people around the world to take action."
In 2015, LOUIS XIII partnered with renowned actor and creative visionary John Malkovich to create "100 Years: The Movie You Will Never See," a thought-provoking artistic work that explores the relationship of past, present, and future. "100 Years" – The Song We'll Only Hear If We Care – was previewed in Shanghai on November 13th, 2017. For more information, visit the brand website – WWW.LOUISXIII-COGNAC.COM.
GLOBAL WARMING

LOUIS XIII was founded in 1874 by Paul Emile Rémy Martin and is the pure result of the genius of its creators: the environment and generations of owners and cellar masters. Mother Nature is at the heart of what we do: without her full balance and wellness, the greatest cellar masters or vineyards would not be able to grow and assemble the exceptional blend of up to 1200 eaux-de-vies that compose each LOUIS XIII decanter. Like Paul Emile Rémy Martin, André Giraud, Georges Clot and Pierrette Trichet did in the past; today's Cellar Master Baptiste Loiseau is setting aside our finest eaux-de-vie as a legacy to his successors, for the coming century.
Following the event in Shanghai, LOUIS XIII Cognac will launch an international tour in major cities all around the world in order to raise awareness and funds for environmental organizations through charity dinners. Through these events, LOUIS XIII will directly support associations dedicated to curbing climate change on a local level.
Thanks to the gift of our Grande Champagne Terroir where LOUIS XIII soil and vines are nestling, each decanter is the life achievement of generations of cellar masters. From its birth in 1874 to the Universal Exhibition in Paris, or by accompanying the royal dynasties of Europe, LOUIS XIII was a privileged observer of the 20th century. Today, it is only natural that we care deeply about our environment and work to serve as a flag bearer to address this major issue of the 21st century. Where protecting our terroir is a day-by-day necessity, to think a century ahead has been the core tenet of our philosophy since LOUIS XIII was founded, as the cellar master must set aside the finest eaux-de-vie as a legacy to his successors for the coming century. Preparing the legacy we will leave behind for future generations is an integral part of our brand DNA and our involvement in the international effort to combat climate change is not only legitimate, it is imperative.
The Remy Cointreau Group, including LOUIS XIII, has long been dedicated to the international effort to curb global warming. The group joined the United Nations "Global Compact" environmental organization 14 years ago, and has been a member of the U.N.'s elite "Global Compact Advanced" since 2014. The group is dedicated to contributing to the international effort with its 2020 Corporate Social Responsibility (CSR) program, within the U.N. environmental framework. Taking action to help battle climate change is one of the main objectives of the 2020 program, with one of its goals being to reduce the group's greenhouse gases and carbon footprint. Top priorities of this program include sustainable wine-growing practices, energy efficiency, eco-friendly packaging, optimization of product shipments and forest conservation. Given its niche production, LOUIS XIII contributes to a very small CO2 emission.
"As a company, we must do the best we can every day to make the world a better place," explained Ludovic du Plessis, Global Executive Director of LOUIS XIII. " But no single person or brand can stop global warming on their own – it must come from the unified global actions of all people around the world. Together we are much stronger than any person or brand is on their own. This is not about any one city or country but the future of our planet as a whole. Our concern is not primarily for Cognac, but for every city around the world."