Pamela Anderson does her holiday shopping early. The honorary PETA US director has sent Kim Kardashian a one-of-a-kind gift: a coral "eco-fur" coat that she custom-designed for the reality star with Russian faux-fur manufacturer Only Me.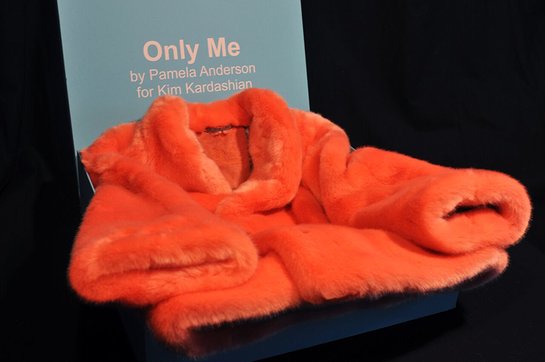 "In the spirit of the season, please accept this coral hip-length faux-mink coat, made especially for you by my partners at Only Me Eco Fur in Russia," wrote Anderson. "As we all ponder New Year's resolutions, won't you consider making a meaningful one to stop wearing fur? You'd be setting a trendy, compassionate example.
"Vogue Paris recently featured Gisele Bündchen on the cover of an issue dedicated to cruelty-free fashion, about which she said, "So happy that Vogue Paris dedicated this issue to animal protection, sending a strong message that wearing real fur is never an option!!"
"Also this fall, Gucci announced that it would stop using real fur because it's "out-dated" — joining Giorgio Armani, Ralph Lauren, BCBG Max Azria, Calvin Klein, and other stylish brands that have shed fur.
"As Elaine Welteroth, the editor-in-chief of Teen Vogue, recently stated, 'Ethical fashion is the future of fashion. Gucci's decision to ban fur is a smart step in the right direction — for the environment, for animal rights, and for its massive base of young brand fans who will soon represent the largest consumer base in history.'
"Kim, I know your young fans would admire you and your brand even more if you dropped fur."