L'Oréal Paris honored 10 inspiring women who selflessly commit their lives to serving their communities and fostering positive change at the 12th annual Women of Worth celebration.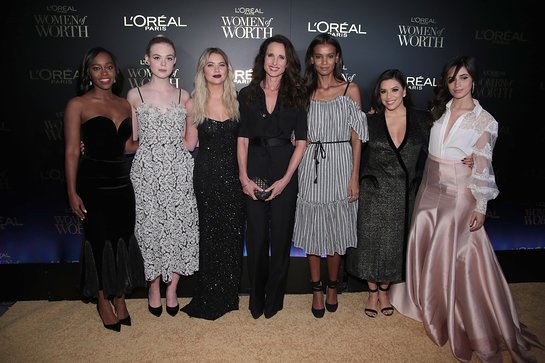 Inspired by the L'Oréal Paris belief that "We're all worth it," the annual Women of Worth celebration honors the intrinsic beauty of everyday women making an extraordinary difference. This year's Honorees represent a wide range of causes, from supporting survivors of human sex trafficking to raising awareness about mass incarceration.
Among those who attended were Elle Fanning, Eva Longoria, Camila Cabello, Andie MacDowell, Dr. Mehmet Oz, Hoda Kotb, Gayle King, Arianna Huffington, Liya Kebede, Aja Naomi King and Dana Perino
Each Honoree received a $10,000 grant for her organization and Shandra Woworuntu, founder of Mentari which provides assistance to victims of human trafficking through DREAM, which stands for Direct services, Resources, Education, Advocacy and Mentorship, was named as the 2017 National Honoree and was awarded a total of $35,000 to support her cause. 2011 Women of Worth Honoree Gretchen Holt Witt, founder of Cookies for Kids' Cancer, received the Karen T. Fondu Impact Award to recognize her continued work in supporting research for new and improved therapies for pediatric cancer. This notable award is in recognition of Gretchen's impactful leadership, under which Cookies For Kids' Cancer has funded $12.5 million in research grants, leading to 36 new treatments in clinical trial that are available to children fighting cancer today.
"It is an honor to celebrate the Women of Worth Honorees, who beautifully embody our brand ethos of self-worth. Through their passion, resilience and selflessness, they are making a positive impact on their communities and the world," said Tim Coolican, President, L'Oréal Paris. Karen T. Fondu, President Emeritus and Chairwoman of L'Oréal Paris Women of Worth added, "Through the recognition and platform Women of Worth provides, our commitment is to amplify their stories and causes, so that their work will continue to thrive and to profoundly change the course of so many lives."
NATIONAL WOMEN OF WORTH HONOREE: SHANDRA WOWORUNTU
The 2017 Women of Worth National Honoree, Shandra Woworuntu, was awarded an additional $25,000 after receiving thousands of public votes via the L'Oréal Paris website and social channels in support of her efforts in human trafficking and domestic violence. Woworuntu created Mentari, which began as a series of cooking classes taught out of her home, and grew into an organization where human trafficking survivors could connect and learn culinary arts courses with a professional chef, and other mentoring opportunities. Through this $35,000 grant from L'Oréal Paris, Woworuntu will be able to offer additional cooking courses and be able to train up to 45 people, as well as start work on a safe house for trafficking victims.
KAREN T. FONDU IMPACT AWARD WINNER: GRETCHEN HOLT WITT
Cardiac surgeon and host of "The Dr. Oz Show", Dr. Mehmet Oz presented this year's Karen T. Fondu Impact Award, to Gretchen Holt Witt, for her cause, Cookies for Kids' Cancer. As the 2011 Women of Worth National Honoree, Witt was celebrated for raising funds to support research for new and improved therapies for pediatric cancer, the leading cause of death by disease for children under the age of 18 in the United States. Since 2008, Cookies For Kids' Cancer has funded $12.5 million in research grants, leading to 36 new treatments in clinical trial available to children fighting cancer today.
"It's truly an honor to be part of the Women of Worth legacy," said Gretchen Holt Witt. "The recognition and generous donation from L'Oréal Paris has helped my organization, Cookies for Kids' Cancer, stay laser-focused on doing all we can to raise awareness and funds for new research to help find a cure for pediatric cancer and keep the promise I made to my son — to make it better for other kids. I am beyond thankful for your support."
2017 WOMEN OF WORTH HONOREES
Selected by a distinguished panel of judges including leaders in business and media, the 2017 L'Oréal Paris Women of Worth Honorees were chosen from thousands of nominations for their unwavering commitment, drive and desire to better the lives of those around them.
• Leanne Huebner – Los Angeles, Calif.; Co-founder, Minds Matter National, an educational nonprofit that transforms the lives of accomplished high school students from low-income families by broadening their dreams and preparing them for college success.
• Deborah Jiang-Stein – Minneapolis, Minn.; Founder, unPrison Project, an organization that works to build literacy, mentoring and life skills for women and girls in prisons and for their children to help cultivate critical thinking tools to plan, set goals and prepare for successful life after prison.
• Rana Abdelhamid – Palo Alto, C.A.; Founder, the International Muslim Women's Initiative for Self-Empowerment or WISE, a self-defense, social entrepreneurship and leadership development movement for young Muslim women.
• Charolette Tidwell – Fort Smith, Ark.; Founder, Antioch for Youth & Family, a nonprofit that provides supplemental food assistance to approximately 7,000 people in the community, in addition to youth development services and family assistance through a variety of personal enrichment programs.
• Shandra Woworuntu – Corona, N.Y.; Founder, Mentari human trafficking survivor empowerment program that provides direct services, resources, advocacy, education and mentoring initiatives to help survivors as they reintegrate into society.
• Lulu Cerone – Encino, Calif.; Founder, LemonAID Warriors, a nonprofit youth-activism organization that connects children to worthy causes and provides unique action plans to create tangible social good.
• SreyRam Kuy – Missouri City, Texas; Partner, Dog Tag Bakery, a nonprofit organization that sells baked goods and trains veterans in business and the first female Cambodian refugee to work as a surgeon in the U.S.
• Valerie Weisler – New York, N.Y.; Founder, The Validation Project, an international organization that works with more than 6,000 teenagers in 105 countries, providing them with the resources and guidance they need to develop confidence and gain self-worth.
• Theresa Flores – Worthington, Ohio: Founder, S.O.A.P. Project, which stands for "Save Our Adolescents from Prostitution" raises awareness and provides resources for victims of human trafficking by placing educational materials and bars of soap in hotels and motels across the country with information on how to seek help.
• Cassandra Lin – Westerly, R.I.; Creator, project Turn Grease Into Fuel (TGIF), a sustainable system that collects used cooking oil from residents and restaurants, coverts it to biodiesel, and distributes the biofuel to local families for emergency heating assistance, developed by Westerly Innovations Network.