Standing in a snowscape and wearing nothing more than icicles, La Reina del Sur star Kate del Castillo appears in a new holiday shopping campaign for PETA that proclaims, "I'd Rather Go Naked Than Wear Fur."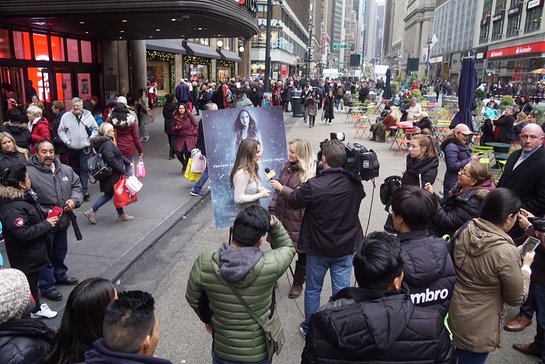 She unveiled the ad today in person outside Macy's flagship store in New York's Herald Square — where fur coats are still sold.
In an exclusive video interview, del Castillo reveals why she stripped down for the cause: "They're still killing animals for fur. There's a lot of work to do, and that motivates me," she says. "You don't need to wear fur to be beautiful. It's not the moment to be silent. I think we have to go naked, go bold."
PETA — whose motto reads, in part, that "animals are not ours to wear" — notes that every year, millions of animals are confined to cramped, filthy cages before being drowned, beaten to death, strangled, electrocuted, or even skinned alive in order to produce fur coats, collars, and cuffs.