Multi-Platinum Recording Artist, Award Winning Actress and New York Times Best-Selling Author Vanessa Williams, as well as her daughter, Jillian Hervey of Electro-Soul duo, LION BABE, appeared at Burlington's flagship location in New York City to kick off Burlington's seventh annual partnership with WomenHeart to #KnockOutHeartDisease.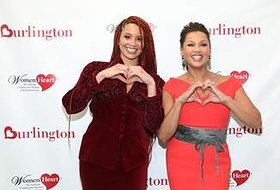 Both women received their free heart health screenings and shared how heart disease has impacted their family. Vanessa is no stranger to heart disease, having lost both grandmothers to the illness. Vanessa's parents made a conscious effort to change their heart health history, and Vanessa has carried on this tradition with Jillian and all her children by cooking healthy foods, staying active, and maintaining yearly check-ups.
How to Get Involved: From now until March 31st, consumers can get involved by visiting their local Burlington store and donating at check-out. Consumers can also get their free heart health screening at select Burlington stores on February 6 and March 20, visit www.BurlingtonStores.com/HeartHealth for more information and to find a screening event near you.