Lucasfilm has teamed up with Tipping Point to help support the relief efforts in the Napa and Sonoma areas which were devastated by fires earlier this year.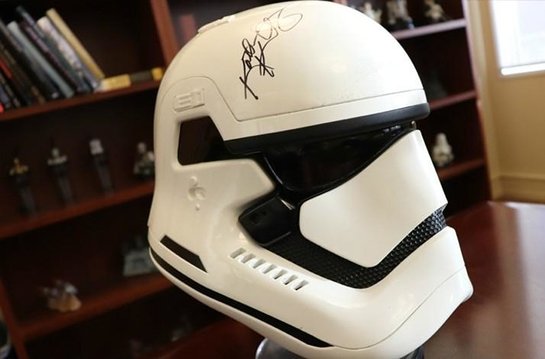 The team behind Star Wars: The Force Awakens and the latest chapter in the Skywalker saga, Star Wars: The Last Jedi, are giving fans three chances to bid on truly unique signed memorabilia through IfOnly.
Star Wars fans will be able to bid on two screen-used First Order stormtrooper helmets worn during the filming of Star Wars: The Force Awakens, and have never been offered to the public until now.
One of the helmets celebrates the recent release of Star Wars: The Last Jedi and features signatures by screenwriter and director, Rian Johnson, as well as Lucasfilm president and producer Kathleen Kennedy. The second helmet includes autographs from both The Force Awakens director J.J. Abrams and producer Kathleen Kennedy.
Finally, an extremely limited-edition porg maquette, which is one of only five screen-used examples ever made, features the autographs of Rian Johnson, Kathleen Kennedy, and creature designer Neal Scanlan. With detailed etching and colors, the statuette showcases the doe-eyed creature that populates the sacred Jedi island of Ach-To. This particular porg was used as a film prop to line up shots in The Last Jedi in several locations overseas and in-studio throughout the filmmaking process.
Proceeds from the sale of each of these one-of-a-kind collectibles will benefit Tipping Point's Emergency Fire Relief Fund, supporting low-income communities affected by the devastating fires in the North Bay.
"Giving back to the community is one of the most important privileges we have," says Lucasfilm EVP and General Manager, Lynwen Brennan. "This particular tragedy both directly and indirectly affected so many of our employees, so it's a cause that is very near and dear to us. We are delighted to be able to help and offer our support by providing some rare pieces for auction that we hope will draw attention to this extraordinary relief effort from our friends at IfOnly and Tipping Point."
"We are thrilled and honored to once again work with our friends at Lucasfilm in their efforts to support a worthy cause by featuring these incredible pieces of cinematic history. As a Bay Area company, we are proud to be a part of the efforts to help those most affected by the North Bay fires," said Sean O'Neill, Director of Entertainment at IfOnly.
The auctions begin on February 9th, with the first offering closing on March 2nd at 3pm EST; they can be found at ifonly.com/Lucasfilm.