OUTFRONT Media Inc. announced today a campaign in collaboration with the University of Michigan Counseling and Psychological Services, the Steven Schwartzberg Foundation, LOGIC, Glenn Close, and Michi and Brandon Marshall, that raises awareness about mental health and leads up to a week-long series of events, called "Who Can Relate?" that will further drive conversation about the cause.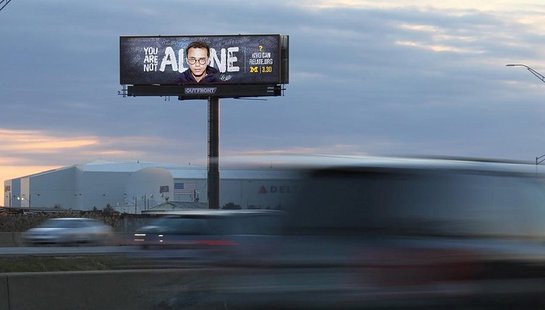 The out-of-home (OOH) campaign promotes "Who Can Relate?" a weeklong campus event at the University of Michigan, Ann Arbor campus. It is aimed at educating the public and fighting the stigma that often accompanies conversations about mental health, to show those suffering that they are not alone. The event will include a series of mental health events and discussions on campus and conclude with a performance by Logic on March 30, 2018 at Hill Auditorium.
The campaign – live in Detroit, Ann Arbor, New York City and Los Angeles through March 30, 2018 – features creative developed by OUTFRONT Studios, OUTFRONT's in-house full-service creative boutique, that illustrates the thoughts and feelings many people facing mental health challenges experience. A blurred image of LOGIC is surrounded by words depicting the internal thoughts of an individual engaged in a mental health struggle. Most prominently displayed is the phrase "You Are Not Alone." Teasers of the campaign, featuring everyday individuals, ran from February 27, 2018 to March 4, 2018.
"OUTFRONT Media is proud to work with a group that values the importance of active discussions, through numerous platforms, about tough topics like mental health," said Eddy Herty, National Creative Director at OUTFRONT Media. "We believe that everyone has the responsibility to be a part of this conversation and to reinforce the support systems available to those affected."
The media platform is able to connect to the masses, reaching millions of people daily, but in a way that is localized and feels close to home. It is the ideal medium for promoting "social good" messages. It is uniquely suited to deliver both "lean back" and "lean in" creative that can highlight a message while encouraging action through an omnichannel approach. As a leader in OOH, OUTFRONT feels a strong sense of responsibility to put its properties and creative ingenuity to work. OUTFRONT Media is proud to be a part of the solution by enriching the lives of individuals facing mental health challenges, letting them know they are not alone.
"Glenn, Brandon and Michi have been warriors in the fight against the stigma surrounding mental health. We are all thankful that Logic has bravely committed his time, talent and platform to help those who continue to suffer. OUTFRONT Media has been a passionate partner and has shown a commitment to helping to address these important social issues," said Harris Schwartzberg from the Steven Schwartzberg Foundation.
To learn more, visit:
• University of Michigan Counseling and Psychological Services
• Who Can Relate?
• Project375
• Bring Change to Mind