Fun Academy Motion Pictures, the studio behind the upcoming animated family film Sgt. Stubby: An American Hero and Variety – The Children's Charity of Southern California, one of the entertainment industry's most respected and generous non-profit institutions, are co-hosting the world premiere of the animated family feature as a fundraising event to benefit Variety – the Children's Charity of Southern California and the Boys and Girls Club of Boyle Heights on Tuesday, March 27 at the Regal L.A. LIVE in downtown Los Angeles.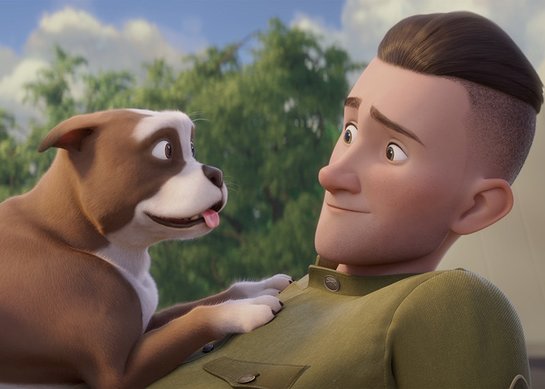 Red carpet is 4:30 p.m.; with a reception at 5:00 p.m. and screening at 6:00 p.m.
Tickets and event sponsorships are available to allow kids from underserved L.A. communities to attend the premiere. All net proceeds will be donated by Fun Academy to Variety – the Children's Charity of Southern California, which has been serving the Los Angeles area since 1941.
Sgt. Stubby: An American Hero, in theaters everywhere April 13, is based on the incredible true story of the unbreakable bond between a young Soldier and a stray dog who, for his valorous feats, is still recognized today as the first dog promoted to the rank of Sergeant in the U.S. Army. Stubby is the most decorated dog in American history and is widely considered the forerunner to the U.S. Army's working dog program. Set against the backdrop of America's entry into World War I, this computer-animated feature shows the world that the greatest heroes can come from the unlikeliest of places in a heartwarming "tail" for the entire family.
On March 28th, the day following the world premiere, Fun Academy and Variety – the Children's Charity, will co-host screenings in 14 cities across the U.S. and Canada – a first in the charity's 90-year history – to further benefit Variety programs that provide life-saving, life-changing and life-enriching equipment and services to children who have a disability or are disadvantaged.
"We are delighted to partner with Variety – the Children's Charity to host the world premiere screening and multi-city tour of Sgt. Stubby: An American Hero," said Richard Lanni, director of Sgt. Stubby and founder of Fun Academy. "We are excited to host 500 children and their families from organizations supported by Variety SoCal, including the Variety Boys and Girls Club of Boyle Heights, at our world premiere to enjoy this dog's eye view of American history that kids will love, parents and educators will appreciate, and all ages can enjoy together."
"Variety – the Children's Charity of Southern California is honored that Fun Academy Motion Pictures will premiere this heartwarming story to benefit children with special needs in our community. The children whom Variety supports overcome adversity every day. The inspiring story of Sgt. Stubby is one that the kids will really enjoy," added John C. Hall, President of the Board of Directors of Variety of Southern California.
The March 28th screenings locations are spread across North America and benefit causes selected by each local chapter (or "tent") of Variety – the Children's Charity:
UNITED STATES:
• Cathedral City, California – Variety Tent #66: D'Place Entertainment Mary Pickford Theatre 14
• Redwood City, California – Variety Tent #32: Cinemark Redwood Downtown 20
• Deltona, Florida – Variety Tent #70: Epic Theatres of West Volusia
• Wheaton, Illinois – Variety Tent #26: Studio Movie Grill
• Gurnee, Illinois – Variety Tent #26: Marcus Gurnee Cinema
• Grand Rapids & Lansing, Michigan – Variety Tent #27: Celebration! Cinema Grand Rapids North / Celebration! Cinema Lansing
• Chesterfield, Mississippi – Variety Tent #4: Marcus Theatres Chesterfield Galaxy 14 Cine
• Downtown, Nevada – Variety Tent #39: Brendan Palms 14
• Williamsville, New York – Variety Tent #7: Regal Transit Center Stadium 18
• Brooklyn, New York – Variety Tent #35: National Amusements Linden Blvd. Multiplex
• Harker Heights, Texas – Variety Tent #17: Cinemark at Market Heights
• Fairfax, Virginia – Variety Tent #11: Cinema Arts Theatre
CANADA: Sgt. Stubby: An Unlikely Hero
• Alberta, British Columbia – Variety Tent #61: Westhills Cinemas
• Winnipeg, Manitoba – Variety Tent #58: Scotiabank Theatre Winnipeg
• Vancouver, British Columbia – Variety Tent #47: Scotiabank Cineplex Theatre
Opening on approximately 3,000 screens across the U.S. and Canada and coinciding with the year-long 100th commemoration of the United States' role in the "War to End All Wars," Sgt. Stubby was directed by award-winning documentarian Richard Lanni in his feature film debut and stars Logan Lerman (Fury, The Perks of Being a Wallflower, Percy Jackson & The Olympians), Helena Bonham Carter (the upcoming Ocean's 8, the Harry Potter films, The King's Speech, Sweeney Todd) and Gerard Depardieu (Life of Pi, Cyrano De Bergerac, The Man in the Iron Mask, Green Card).
Featuring an original score by Patrick Doyle (Brave, Thor, Cinderella, Harry Potter and the Goblet of Fire), Sgt. Stubby is produced and distributed by Fun Academy Motion Pictures with animation by Mikros Animation, a Technicolor company. Screenwriters are Richard Lanni and Mike Stokey II (Band of Brothers, The Pacific, Alexander, Born on the Fourth of July), with editing by Mark Solomon (Frankenweenie, Chicken Run, Shark Tale, the upcoming Sherlock Gnomes). Produced by Laurent Rodon and Emily Cantrill; and executive produced by Frank Lumpkin III, Tom Sheehan and Richard Lanni.
As documented in history books but largely forgotten today, the true story of Sgt. Stubby will resonate with parents, educators, animal lovers, military supporters and history buffs alike. The film has been selected as an official project of the United States World War One Centennial Commission and its French counterpart, La Mission du Centenaire 1914-18; additional endorsements and educational partners include the Connecticut State Library, the National Infantry Museum Foundation, the National World War I Museum & Memorial, and the Lowell Milken Center for Unsung Heroes.
Beyond his military exploits, Stubby's status as an adopted stray has resulted in nearly a century of recognition by animal rescues and welfare organizations and Fun Academy has partnered with more than 70 regional and national animal organizations across all 50 states to shine a light on the human-animal bond and the amazing things adopted animals can do when given a chance in life.