Actor and comedian Kevin Hart and TV/radio personality Maria Menounos – Health Ambassadors for Rally Health – surprised hundreds of gym goers yesterday at Midtown Athletic Club when they showed up to participate in fitness classes and stage a mini health festival.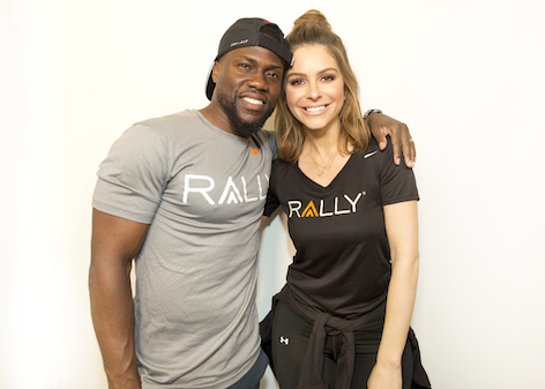 Their original plan to host thousands of Chicagoans at the Rally HealthFest in Maggie Daley Park was changed due to inclement weather.
"The rain couldn't dampen the vibe of positivity that our outdoor Rally HealthFest set out to deliver to the people of Chicago. It just got redirected indoors to the awesome people spending their Saturday at the club. We thank everyone for letting us crash their workout!" said Kevin Hart, Rally Health Ambassador.
"This is a classic 'make lemonade out of lemons' scenario. While we were disappointed that we had to cancel our Rally HealthFest in the park, we were thrilled that we were still able to meet up with a great group of people to celebrate healthy living. Our thanks to Midtown Athletic Club for hosting us with just a day's notice!" said David Ko, president and COO, Rally Health.
As they do at the usual Rally HealthFests, Kevin, Maria and Kevin's personal trainer Boss participated in several fitness classes including high-intensity sprints, boxing and a spin class, and chatted it up with club members about the benefits of leading a healthy lifestyle. Rally set up a photo booth and a place where people could write letters to their future selves.
"We were delighted to host Kevin, Maria and Boss at yesterday's Rally Health event. It was a wonderful surprise for our members and an opportunity to showcase everything Midtown has to offer," said Michael Mahoney, general manager of Midtown Athletic Club.
Rally HealthFests are free, public events sponsored by digital health company Rally Health. The events, which can draw up to 12,000 people, are designed to promote healthy living through fun activities that demonstrate four key pillars of health: MOVE, EAT, CARE, FEEL. People of all ages come out to participate in family-friendly activities focused on healthy living, for example, participating in group exercise classes and cooking demonstrations, riding stationary bikes, playing memory and brain games, learning practical health tips, and running potato-sack races in the Kids' Zone.