A young boy has had his wish granted by the Kids Wish Network.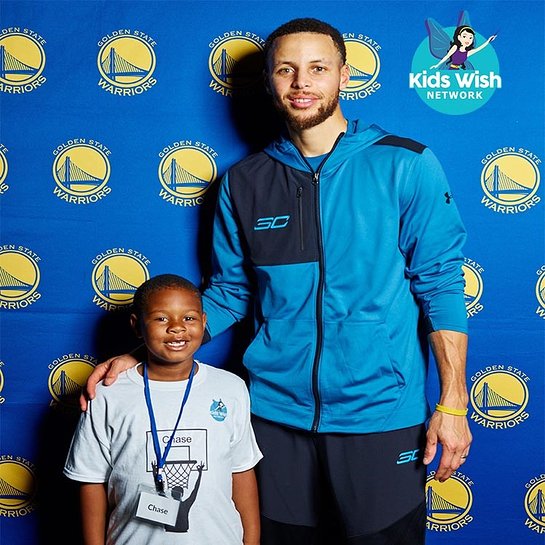 Wish Kid Chase's dream was golden, scoring a wish with 2-time NBA champion Stephen Curry of the Golden State Warriors. He's undergone many health challenges, including his diagnosis of T-cell acute lymphoblastic lymphoma and chemotherapy treatments. Kids Wish Network, a children's charity that grants wishes for kids with life threatening illnesses, found out that Chase loves basketball, and hopes to be just like Curry when he grows up. It was a big win! With this very special wish, Stephen Curry continued his streak of 3 pointers, meeting our Wish Kids Chase, Nic and Mikel for a fun day of gaming and family togetherness.
Chase was going to have a ball! It was all fun and games the day Chase's dream came true. NBA star Stephen Curry said, "Have a great time, enjoy life and each other's company… we've got some fun to be had!" Chase was thrilled getting to spend time with Curry. They took pictures together, competed in a game of laser tag, and Curry signed Chase's jersey. "My favorite part was playing laser tag with Steph Curry," said Chase. The basketball superstar brought along extra cheer with some members of the Golden State Warriors Dance Team to play video games and take photos with the kids. They had an amazing once-in-a-lifetime experience with their hero – it was a game changer.
As a special souvenir, all Wish Kids received a customized gift package… An Under Armour backpack filled with JBL headphones and treasured sneakers in their size from Stephen Curry's line of athletic shoes.
During the wish, Chase and his mom enjoyed accommodations at Homewood Suites by Hilton Newark- Fremont and dinner at Jack's Restaurant. Red Robin Gourmet Burgers in Pleasanton also graciously set up a special celebratory dinner for Chase, and went above and beyond putting together a surprise gift basket filled with his favorite things.
"We're always so thrilled to make a dream come true – especially when it's meeting someone who greatly inspires our Wish Kids," said Kids Wish Network Executive Director Tam Lai. "We're so appreciative to Stephen Curry for creating such happiness that our kids will always remember."
Kids Wish Network is a national charitable organization dedicated to infusing hope, creating happy memories, and improving the quality of life for children with life-threatening conditions and those struggling with life-altering situations. Kids Wish Network assists children and their families through several key programs. Visit www.kidswishnetwork.org to learn more and find out how you can help makes dreams come true and sponsor a wish for a deserving child.