goop, the modern lifestyle brand founded and helmed by Gwyneth Paltrow, hosted the third installment of its popular wellness summit, In goop Health.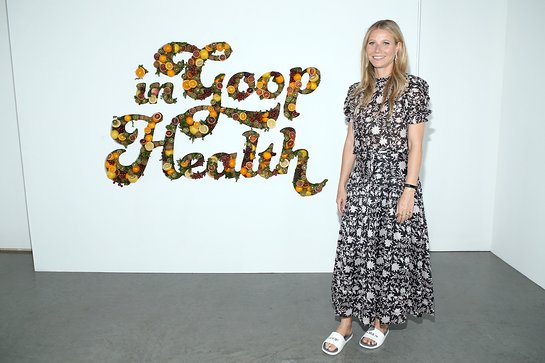 The consistently sold-out summit featured thought-provoking discussions with leading voices in the wellness space and showcased bespoke activations that spoke to our emotional and physical health.
The summit featured:
A full day of issue-focused panels with leading doctors, scientists, entrepreneurs, and boundary-pushing celebrities. Highlights included:
Intimate fireside chats conducted by Paltrow with creatives such as Meg Ryan and Janet Mock;
- A discussion on the cannabis industry with innovative scientists and entrepreneurs, moderated by actress Lake Bell and presented by MedMen. Goop also curated a selection of cannabis-adjacent products at MedMen's new Abbott Kinney location, which opened today;
- An exploration on intuition, creativity, and unlocking your potential led by author and poet Cleo Wade;
- Inspired by The Sex Issue and The Post-Natal Depletion Cure – new releases from goop's book imprint – a Tantra and polarity session with Michaela Boehm, and a Q & A with Loom's Erica Chidi Cohen and Dr. Oscar Serrallach presented by Munchkin;
- A Q & A with leading female entrepreneurs on "Career Health"
- A breakout session on plant nutrition, moderated by actress Mena Suvari with Kelly Leveque and Keri Glassman and presented by Bolthouse Farms Plant Protein Milk;
- Discussions on the autoimmune spectrum, longevity and health span, where scientists and doctors explained the art of maintaining, and even optimizing, your health at every age.
Wellness experiences including facial stations and master classes by Tata Harper, Shiva Rose, Herbivore Botanicals, May Lindstrom, Anastasia Achilleos, Cyrohealth and Annee de Mamiel, and a

LED

eye mask station by Dennis Gross. The popular no-makeup makeup station by Glamsquad, and B12 shots from the Hydration Room were also back by popular demand. Complimentary limited-edition slides by vegan shoe company, Native Shoes, were provided to all guests upon entrance.
Personalized sessions including scent blending with natural perfumer Douglas Little, human design with Lynette Hagins, life-path readings with Susan Grau, numerology by Josh Siegel, Akashic Record readings by Amor Luz, pulse readings by Martha Soffer of Surya Spa, tarot card readings from Angie Banicki, crystal readings with Kiki Matoba-Smith, Reiki classes with Kelsey Patel, breathwork with Ashley Neese, meditation with Light Watkins, chakra cleansing and psychic readings by Deganit Nuur of Nuurvana, manifestation workshops with Suzannah Galland, aerial yoga with Lululemon, and more.
Health-driven food options from top vendors, chefs and food purveyors, including Moon Juice, Gracias Madre, Café Gratitude, Methodology, Kye's, P.Y.T., Blue Bottle Coffee, Four Sigmatic, Kreation, Dream Pops, Wanderlust Creamery and pizza with activated charcoal crust from Jewel. The

VIP

lunch was hosted by Jessica Koslow of Sqirl.
A concluding party with cocktails by Ketel One Botanical, a 100% non-

GMO

vodka infused with natural essences.
A Wellness Weekender package, which included a two-night stay at Hotel Casa del Mar, exclusive fitness classes, and an invite to a cocktail party the night before the summit.
An In goop Health retail hall, including a wellness pharmacy, an athleisure shop, a clean-beauty apothecary, and exclusive goop collaborations, such as a nontoxic polish by goop x Côte Nails. The hall also featured an installation from ecologically sensitive electric car company Karma Automotive, the official auto partner of In goop Health.
A gift bag stocked with goop-approved beauty, fashion and wellness products, including Tru Niagen, Rent the Runway, The Organic Pharmacy, Naturopathica, May Lindstrom and Olio E Osso.
An "eat ugly" produce wall created by Imperfect Produce, which fights food waste by salvaging unclaimed goods directly from farmers. 20% of fruits and vegetables never make it off the farm due to cosmetic reasons alone. All produce from the welcome wall will be donated to LA Compost and reused as a resource for our ecosystems.
In collaboration with Mother Denim, goop staff wore "goopfellas" tees, which were also available in the goop Hall for guests to purchase.
In goop Health took place at 3Labs in Culver City, with additional events held at Shutters on the Beach, the official hotel partner of In goop Health.