Heifer International has announced Emmy Award winning actress Uzo Aduba as the organization's first-ever celebrity ambassador to Africa.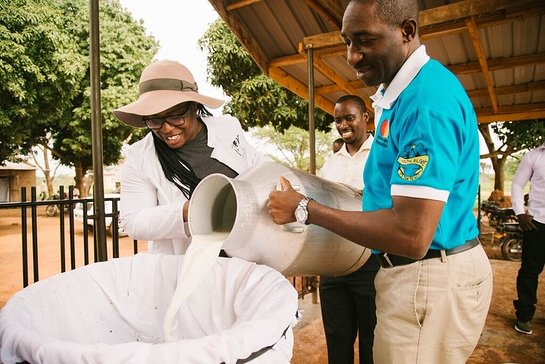 During her two-year appointment, Aduba will act as an advocate for Heifer's mission in Africa to end world hunger and poverty while caring for the Earth and lifting small-scale farmers to living incomes.
For more than 70 years, Heifer has provided livestock and environmentally sound agricultural training to improve the lives of those who struggle daily for reliable sources of food and income.
"Being an Ambassador to Heifer International is a true honor," Uzo Aduba said. "I have tremendous faith in this organization and their desire to help change the lives of those living below the poverty line. What makes Heifer different is simply this: they look to offer those they serve with a hand up, not a hand out. That is how each of us can change a life, and that is a cause, a fight, I will always support."
Aduba saw Heifer's impact first-hand on a trip to Uganda in 2016 where she met with farmers, participated in a Passing on the Gift ceremony and helped process milk at a community-owned dairy center. The visit made a lasting impression, and she returned to Uganda in March 2018 where she checked on the progress on the projects she visited two years prior. Uzo worked with dairy farmers in the Koboga District at the East Africa Dairy Development (EADD) Cooperative Society. Additionally, Aduba made a return visit to farmer Grace Atusimirwe's thriving farm as she is a successful member of the co-op.
"We are thrilled to have Uzo join us in our work," Pierre Ferrari, Heifer President and CEO, said. "As a passionate champion of small-scale farmers, particularly women, Uzo's commitment to empower farmers is inspiring. We are working together to build communities and resilient farm-based businesses to lift them to living incomes. By achieving living incomes, they will have the resources they need to feed their families daily; educate all their children; get needed medical care; and have proper housing, water, hygiene and other essentials."
In her role as Ambassador to Africa, Aduba will continue to support and raise awareness for the organization and its life-saving work to help communities become more self-reliant and lift farming families to a living income. Aduba will continue to mobilize support for small-scale farmers in Africa and around the world and will serve as a passionate and inspiring advocate for Heifer's mission and project participants.