By Jennifer Conroy on
Members of the legendary family suited up to raise money for the Dee Dee Jackson Foundation, as well as to honor the late patriarch, Joe Jackson in a fun, celebrity-studded charity game of softball.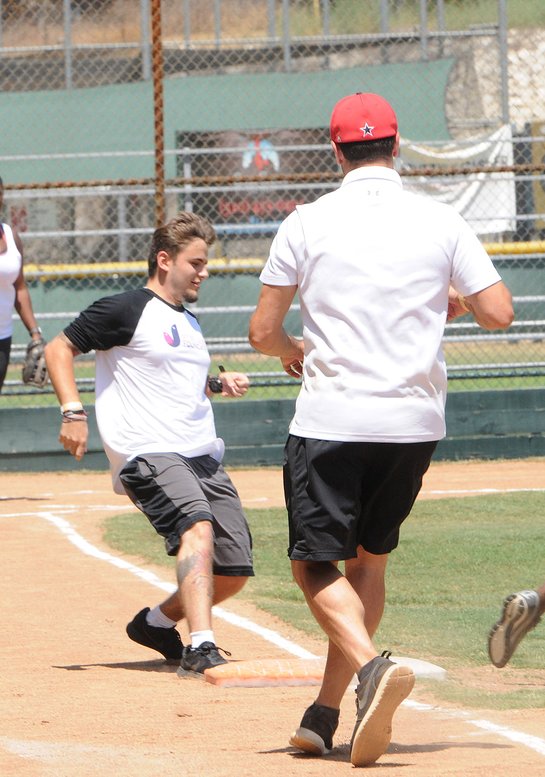 Started by Taryll, Taj & Tj in honor of their late mother, Dee Dee Jackson, this particular event has been a testament to their dedication in giving back and helping kids in need. The annual charity softball game raises funds for the foundations' music therapy program. "This is something my brothers and I have wanted to do for a very long time and to see it all come together is very exciting," Taryll said of the event.
The Dee Dee Jackson Foundation is a non-profit organization which was conceived to extend the philanthropic work of Dee Dee Jackson, late ex-wife to Tito Jackson and mother of three. In hopes to bring light, therapy, and guidance to children who have been through tragic situations in their life such as suddenly losing a family member to violence, death, or murder, the sons and their families dedicate their time to help kids who need an outlet for their grief. The programs they offer such as music therapy and counseling allow the children to find common ground in each other's experiences and have a community of adults and peers who they can feel comfortable speaking to about their grief processes.
According to Taj Jackson, the location for the game has a special meaning to himself and his family, "This is my mom's field. We used to play little league here and would be out here practically every day. We lived down the street, you know, and my mom was a big staple here, so being here feels like home," he said.
Many people came out to support, raise money, and play in the game including MMA fighter Chuck Liddell, NFL wide receiver Terrell Owens, actress Deborah Joy Winans, actress Nicole Ari Parker along with her husband Boris Kodjoe, just to name a few.
Also in attendance – family matriarch, and newfound widow, Katherine Jackson arrived just as the game started, securing a shaded seat on the stands to support her grandkids, including Prince Jackson, Michael Jackson's eldest son. Prince came early enough to grab a pineapple flavored shaved ice before he suited up to play ball alongside his family and friends.
On the loss of Joe Jackson, Taj shared how he was very close to his grandfather. "It's not easy. It's hard. Even with the tools we've learned over the years, it's still hard [to process] because this [Joe Jackson] is the foundation of our family – him and my grandma – and now one of them is gone," He continued, "Me and my grandfather had a great relationship, we were very close, and he was like the rock of the family, you know." Taj also shared what he wants people to understand most about the foundation – "I want people to know that if you are suffering grief from loss, there is a place for you, he said.
The game started at around 1pm with players all wearing official Dee Dee Jackson Foundation T-shirts, for sale by $25 donation at the snack bar just outside the field.
Mr. Tito Jackson also came to support his kids and the continuation of his late ex-wife's charity works. He told us why this foundation is so necessary to him. "This organization was founded by my three sons, actually, and it was so they can help and offer kids who have lost a loved one a safe space and to help them through the trauma of losing that loved one. One of the forefronts of this foundation is to help kids find direction when they are experiencing so much sadness in their life. It really is a wonderful organization." Jackson said.
For more information on The Dee Dee Jackson Foundation, please visit – DDJF.org.