The Only Way is Essex star Pete Wicks, Downton Abbey's Peter Egan and Good Morning Britain presenter Philippa Tomson helped animal charity Humane Society International UK and 5 very special dog meat trade survivors, deliver a petition to the South Korean Embassy calling for an end to the country's brutal dog meat trade.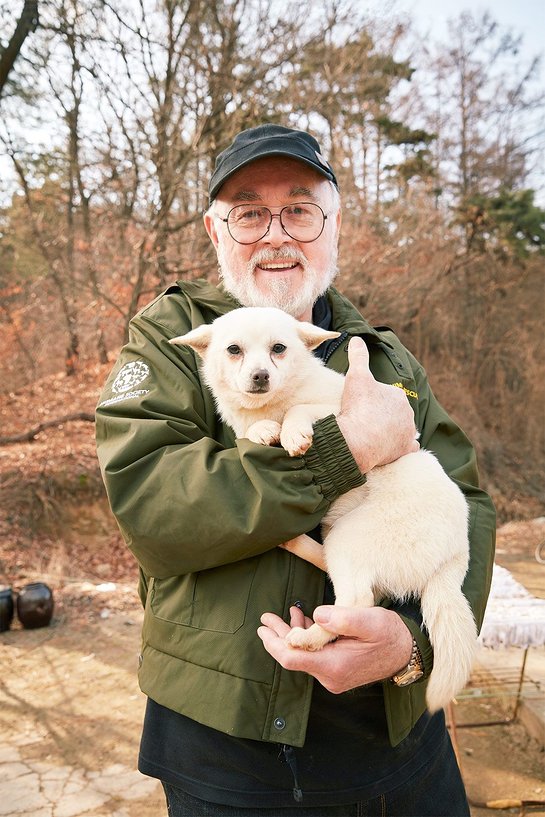 The hand in of nearly 700,000 signatures collected from around the world coincides with the start of Bok Nal, the hottest days of summer when dog meat soup is eaten in South Korea to combat the heat. The petition will remain open until the close of Bok Nal in August when HSI and partner group Korean Animal Rights Advocates will deliver the final total to The Blue House in Seoul, the residence of President Moon Jae-In.
The stars' canine companions for the day were all saved from death row on dog meat farms by Humane Society International, as part of the charity's ongoing effort to assist dog meat farmers to close down their dying businesses and switch to alternative livelihoods. Bindi, Charlie Brown, Roxy, Elsa, Faith, George and Sophie were rescued by HSI on two separate farm closures, and Pete, Pip and Peter joined the charity on these rescue missions to see first-hand the horrors of the trade.
For Pete Wicks, helping HSI close down a dog meat farm in Namyangju last year, at which more than 170 dogs and puppies were rescued, was an emotional experience.
Pete Wicks said "It is wonderful to be reunited with some of the dogs who I first met on a dog meat farm in South Korea and to see them so happy with their new families. It is almost unbelievable to think that these dogs were once destined to be eaten. I am still haunted by the horrors of the dog meat trade, the week I spent closing a South Korean dog meat farm with HSI was one of the most intense weeks of my life. The dogs here today are the lucky few, there are still millions of dogs languishing on dog meat farms across South Korea, but there is real hope that this terrible trade could soon come to an end. As this petition showcases, there is huge opposition to the dog meat trade both within South Korea and across the world, we now need the Government to act and put the vital legalisation in place to ensure that no more dogs are killed for human consumption."
More than 2 million dogs are raised for human consumption on thousands of farms across South Korea, but attitudes in the country are changing, and HSI's farm closures are part of the charity's strategy to encourage the government to initiate a nationwide phase-out of the trade. It's an initiative that has so far seen HSI close twelve farms and rescue more than 1,300 dogs who have been flown to the United States, Canada and the United Kingdom to find loving homes.
HSI UK Executive Director Claire Bass, who rescued her own dog Henry, a golden retriever, from a dog meat farm said "The dog meat trade is a grim, shocking and largely hidden side of South Korea and one that a growing number of South Koreans believe has no place in their modern, progressive society. Most young people in South Korea are appalled by the idea of dog meat, and the country's President, who himself adopted a dog rescued from a dog farm, recently proposed amending the constitution to recognise animal protection. Most recently, a Korean court judgement last month saw a dog farmer fined because killing a dog for eating was declared unjustified. So although the scale of the suffering remains high, there is reason to be optimistic about the opportunities for change, and we hope our petition will send a strong message of global support for an end to the dog meat trade."
Peter Egan has also visited a dog meat farm closed by HSI, in 2017 the actor travelled to a farm in Gangwon province where HSI was working to save the lives of 200 dogs.
At the petition hand in Pete and Peter were reunited with some of the dogs they helped to rescue and had a chance to meet the dog's new families.
Peter Egan said "My visit to a dog meat farm was a truly shocking and harrowing experience, so it is a heart-stopping moment to see these beautiful dogs away from the horrors of these meat farms and allowed to be what they truly are – our greatest companions. Around the world and in South Korea itself there is huge and growing public support for an end to the cruel dog meat trade, this gives me immense hope that soon no dog will have to suffer as the dogs here today did."
Pete Wicks and Pip Tomspon are doing the Great North Run in September to raise money to help HSI shut down its 13th dog meat farm, their JustGiving page can be seen here.
The petition is being delivered in South Korea in August, there is still time to sign to help the petition reach 750,000, the petition link can be seen here.