Jerry Garcia Music Arts LLC, a new mission-based music and arts entertainment services company, celebrates Jerry Garcia's August 1st birthday worldwide with a remastered live recording of "Ripple" from the virtuoso's historic 1982 solo acoustic performance at the Capitol Theater in Passaic, New Jersey.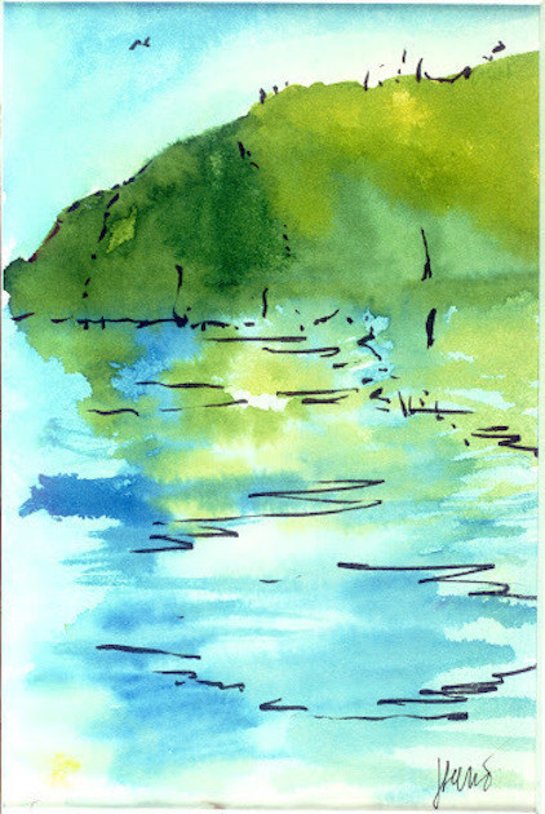 The "Ripple " single will soon be available on iTunes, Spotify, Google Play, Deezer, iHeartRadio, Napster, MediaNet, VerveLife, Tidal, Gracenote, Shazam, and 7Digital.
Garcia's watercolor, also titled "Ripple," is thematically paired with the music release and will be available as a museum-quality, limited-edition giclée via the Terrapin Stationers Gallery.

A portion of the proceeds from the "Ripple" art piece will support ocean preservation.
Jerry Garcia became well known throughout the world as the lead guitarist, vocalist, and composer for the Grateful Dead. In addition to his musical contributions, he was a prolific visual artist and an avid environmentalist. Several of the musician's paintings are sea-themed compositions inspired by his scuba diving and family trips to Hawaii, where he actively supported coral reef preservation.
Garcia thought of himself as "an artist who played music." He also referred to playing music as a "public service."
In this spirit, Jerry Garcia Music Arts unveils its first project featuring the legend's fine art and music.
Garcia family members Keelin Garcia and Manasha Garcia have curated the music and art for the new release as producers of the project.
The recordings were mastered and coproduced by audio engineer Joe Gastwirt, who worked closely with Garcia and his music since the 1980s. He is known for his meticulous work in digitally remastering hundreds of recordings for many well-known artists, including the Grateful Dead; The Beatles; Jimi Hendrix; Bob Dylan; Joni Mitchell; Crosby, Stills, and Nash; and Yes.