TV/radio personality Maria Menounos and digital health company Rally Health hosted a free, family-friendly event over the weekend in the Venice neighborhood of Los Angeles as part of their "Rally on the Road" summer tour celebrating healthy living.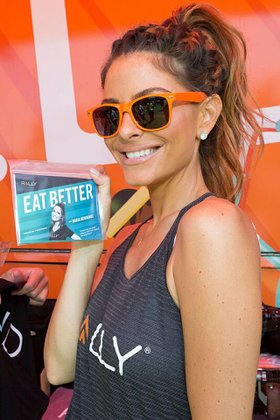 Rally Health Ambassador Maria Menounos, joined by actor/comedian Kevin Hart's personal trainer Ron "Boss" Everline, encouraged participants at the event to move more, eat better and improve their health. With the tour's theme "Get Your Mind & Body in Motion," the event on Abbot Kinney Boulevard in Venice offered Angelenos the chance to participate in small group workouts with Menounos and Boss that focused on simple exercises that can be done anywhere, anytime.
"It was a real treat today to be able to host the final stop of our 10-city Rally on the Road summer tour right here in my hometown," said Menounos. "As a Rally Health Ambassador, it's a privilege for me to meet people here and all over the country who are motivated to learn about the small steps they can take to help keep their health on track."
The Rally on the Road event also spotlighted healthy eating with an activity course that challenged people to separate food facts from myths. Participants who completed this and other courses at the event got to spin a wheel for health-related gift packs inspired by Rally's three Health Ambassadors: Menounos, Hart, and Los Angeles Chargers running back Melvin Gordon.
"We've had an incredible summer traveling across the country with our Rally on the Road tour bus, meeting thousands of people and sharing with them our message about how easy and fun it can be to adopt healthy habits and take charge of their health," said David Ko, president and COO, Rally Health. "We especially enjoyed our last stop here in Los Angeles and want to thank all the people who joined us today."
In addition to Los Angeles, the Rally on the Road summer tour stopped in New York City, Washington, D.C., Charlotte, Atlanta, Cleveland, Cincinnati, Minneapolis, Milwaukee and Chicago. More information can be found on the Rally Health website at www.rallyhealth.com/tour.