Legendary American singer, songwriter and performer Don McLean recently helped raise funds for Teen Cancer America (TCA) and UCLA Health.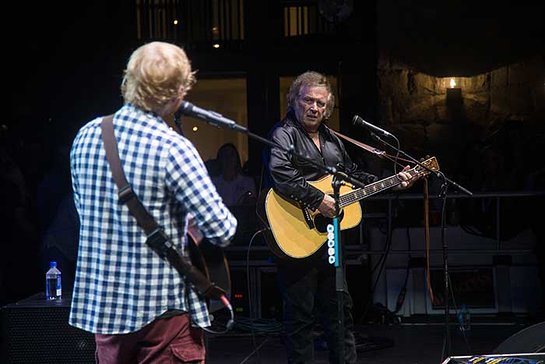 At the Backyard Concert 2018, McLean joined Rock and Roll Hall of Famers Van Morrison and Roger Daltrey, as well as GRAMMY Award winner Ed Sheeran and others for a once-in-a-generation private concert and live auction. During the concert Don McLean joined Sheeran for a special duet performance of his hit "Vincent".
"I have been aware of the philanthropic work of Roger Daltrey for many years, and that motivated me to participate," said McLean. "I enjoyed all the music very much, and Ed Sheeran is very delightful to know and work with. Van Morrison put on a beautiful, swinging show and his band was very refined. Everyone gave their best, and it was a stellar musical evening that raised money for a good cause."
The invite-only event, the fifth in a series that began a decade ago to raise awareness and funds for UCLA Health's Autism program, launched the Daltrey-Townshend Teen and Young Adult Cancer Program at UCLA and spearheaded the establishment of Teen Cancer America.
Judd Apatow served as Master of Ceremonies for the evening and Howie Mandel as auctioneer for the live auction of a rare collection of music memorabilia and art that was auctioned off throughout the evening. Included in the auction lot was a guitar donated by The Buddy Holly Educational Foundation that experts are saying may be the most valuable ever built for a charity event. The handcrafted guitar, inspired by the Holly classic song, "Learning The Game," is signed by 75 of the greatest living musicians including Eric Clapton, Robert Plant, Brian May, Bruce Springsteen, Don McLean, Donovan, Brian Wilson, Keith Richards, Dion, Peter Frampton, Graham Nash, Don Everly and Elvis Costello, just to name a few. Peter Bradley Jr. of The Buddy Holly Educational Foundation has spent the last 18 months traveling the world capturing the signatures and stories about how Holly inspired other artists, in preparation for donating the guitar to Teen Cancer America as part of a newly established partnership between the two organizations.
Other auction items included a mechanically and electrically refurbished Bally Pinball Wizard Machine built in 1975 to coincide with the release of the movie/rock opera "Tommy." It was autographed for the event by most of the stars of the film, including Daltrey, Townsend, Elton John, Tina Turner, Jack Nicholson, and Ann-Margret. Additional auction items included a first off the production line, limited edition The Who motorized scooter and high-value art from famed contemporary street-artist RETNA. The auction was being conducted live, and online at www.ha.com, by Heritage Auctions.
The first four Backyard Concert events raised close to $10 million, with event expenses totaling less than 10 percent of the funds raised. Friday's concert and auction raised over $3.5 Million for the charities.
Backyard Concert continues to build on this momentum to provide transformative care of kids, teens, young adults and families impacted by the frightening diagnosis of cancer or autism. Support from the event funds a multitude of programs, services and resources provided by both UCLA Health and Teen Cancer America for these young patients. If you would like to make a donation in support of this great cause, please contact Carmen Garcia at 310-255-7721.
Key 2018 event sponsors included Douglas Emmett, Merrill Lynch Private Banking & Investment Group, Eastdil Secured, AEG, Eloise & J.P. DeJoria, Goldenvoice, ABM Parking Services and Patron Tequila.