This week in Los Angeles, Billy Porter ("POSE," "American Horror Story: Apocalypse") hosted DIVERSITY x DESIGN, an Emmy season soirée celebrating diversity, inclusion and representation on television.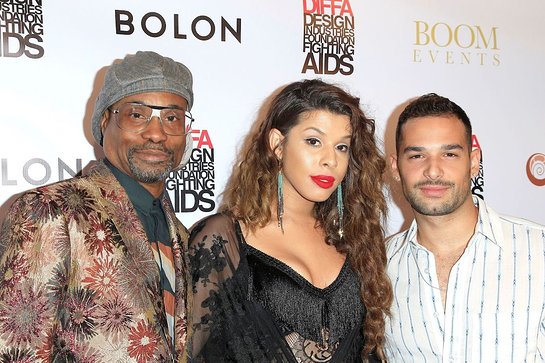 Presented by BOOM Events, the evening benefitted DIFFA: Design Industries Foundation Fighting AIDS, the national non-profit organization that raises awareness and grants funds to organizations that provide treatment, direct care services, preventive education programs and advocacy for individuals impacted by HIV/AIDS.
The star-studded cocktail party was held at the spectacular BOLON and Louis Poulsen showrooms at the landmark Helms Design Center in Culver City, California. Among the guests in attendance were Jeffrey Bowyer-Chapman ("American Horror Story: Apocalypse"), Mary Chieffo ("Star Trek: Discovery"), Jake Choi (ABC's upcoming "Single Parents"), Kathryn Gallagher (Lifetime's new series "You"), Adrian Gonzalez (Starz's "Vida"), Carla Jeffery ("Disney's ZOMBIES"), Maya J (Radio Disney), Isis King ("America's Next Top Model"), Rushi Kota ("Grey's Anatomy"), Abraham Lim ("The Fix"), Trace Lysette ("Transparent"), Emilia McCarthy ("Disney's ZOMBIES"), Elle McLemore ("American Dresser"), Ray Proscia ("Suits"), Carla Renata ("Superstore"), Dara Renee ("Freaky Friday"), Hailie Sahar ("POSE"), Ash Santos ("American Horror Story: Apocalypse"), Linda Sirkedzhyan ("Corbin Nash"), Johnny Sibilly ("POSE") & Britney Young ("Glow").
DIVERSITY x DESIGN was generously sponsored by BOLON, Louis Poulsen, Helms Design Center, Asheville Salt Cave, Michael Hollingsworth Catering and HINT Water.