UNDP Goodwill Ambassadors, Nikolaj Coster-Waldau and Norway's Crown Prince Haakon, the Prime Minister of Norway, Erna Solberg, and R&B singer, Akon joined some of the world's coolest amateur athletes at the 3rd annual Global Goals World Cup (GGWC).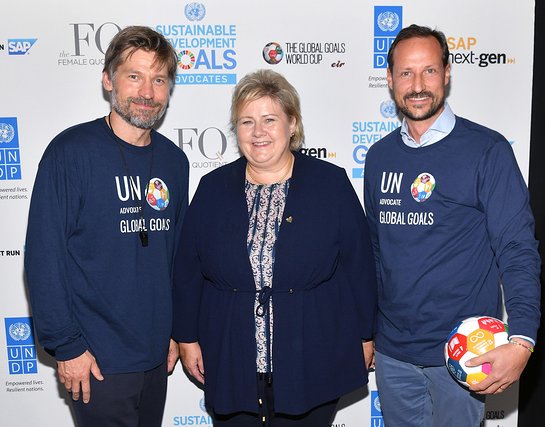 The stars and dignitaries fought it out on the pitch at the tournament which shines a light on the Sustainable Development Goals (SDGs), bringing together 16 amateur women's football teams vying for the trophy designed by world-renowned artist, Olafur Eliasson.
Each team rallied around one of the SDGs, 17 goals that address critical issues including poverty, hunger, health, education, gender equality and climate change. The winning team, Goleadoreas from Queens, New York, championed SDG5, gender equality.
On hand to deliver the trophy to the triumphant team were Crown Prince Haakon and Nikolaj Coster-Waldau, who has refereed previous Global Goals Tournaments in New York, Bangkok and Nairobi. This year he brought his two daughters to the event which took place on the 48th floor of the SAP building in New York City.
"I've brought along my daughters this year so they can see all these remarkable women; scientists, activists, chief executives and policy-makers, all playing soccer," Coster-Waldau said. "Sports unite people around the world, and can unite people to achieve the SDGs as well."
Co-founder of the Global Goals World Cup, Majken Gilmartin, said she was always impressed at the enthusiasm of all those taking part in the tournament.
"This year's Global Goals World Cup was such a success. Wherever the tournament takes place around the world, women answer the call to help achieve the SDGs. At the core of this is the women and the change they are making in their communities," Gilmartin said.
The Prime Minister of Norway played in the VIP Champion's game alongside SDG Advocate, Alaa Murabit, Coster-Waldau, Akon, and Ulrika Modeer, Assistant Secretary-General and UN Development Programme's Director of the Bureau for External Relations and Advocacy.
Other events during the day included panel discussions in front of a crowded house, and a pop-up Girls Lounge hosted by The Female Quotient, a company and community dedicated to achieving workplace equality.
For more information, visit ggwcup.com/nyc201820.