On September 29, Broadway and TV stars aligned to create heartfelt music at a private soirée benefiting Education Through Music-Los Angeles' music education programs in disadvantaged Los Angeles County schools.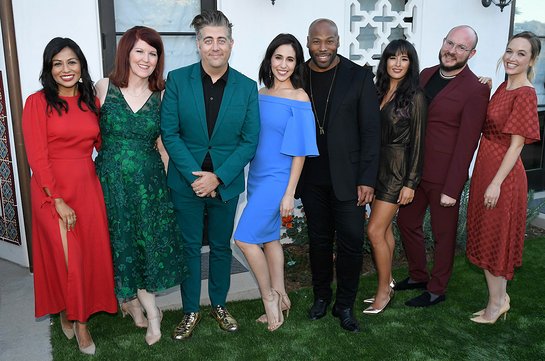 The 7th Annual Keep the Music Playing event featured spectacular vocal performances by special guests Courtney Reed (Aladdin; In The Heights), Gabrielle Ruiz (In The Heights; Crazy Ex-Girlfriend), Kelley Jakle (Pitch Perfect), Eric Thomas Petersen (School of Rock; Shrek: The Musical), Karen David (Once Upon A Time; Galavant), Kate Flannery (The Office), and Anthony Evans (Beauty and the Beast; The Voice).
Hosts Chris Lennertz (Composer, Pitch Perfect 3, Lost in Space) and Shannon Lennertz, Tim Wynn (Composer, Supernatural, Warhawk) and Heidi Wynn, and Music Supervisors Julianne Jordan and Julia Michels (Pitch Perfect (1-3), A Star Is Born) welcomed over 100 guests to drinks, hors d'oeuvres, and a cabaret-style concert.
A gleeful fangirl moment between Reed and David – two Princess Jasmines from Broadway and from ABC/Disney's Once Upon a Time – charmed the audience during their first-ever duet. In addition, tap dancing from Flannery, moving musical numbers and speeches, and an emotionally-charged finale from Evans left guests enthralled.
The artists shared their personal views on the importance of keeping music in schools. Ruiz reflected, "My vocal training is solely from public school education. My high school choir teacher, the late David B. Custer, taught me to respect not only music but also others, how to work as a team…and to be the best you can."
"I had a band teacher in high school who showed me such a passion for music and excellence, and how to hold yourself to a high standard and have fun at the same time," Petersen shared. Reed added, "You never know when the next Mozart is going to be growing up, or the next Beyoncé!"
Now in its 13th year, ETM-LA has expanded from two schools and 800 children to 36 schools and approximately 15,000 children with weekly music as part of the core curriculum.
Board Member Lennertz stated, "The mission of ensuring every child has access to quality music education at an early age is so vitally important. Shannon and I were thrilled to host an event with such an amazingly talented group of performers."