Here's your chance to play mini golf with Paul Rudd in NYC – and all you have to do is donate to charity.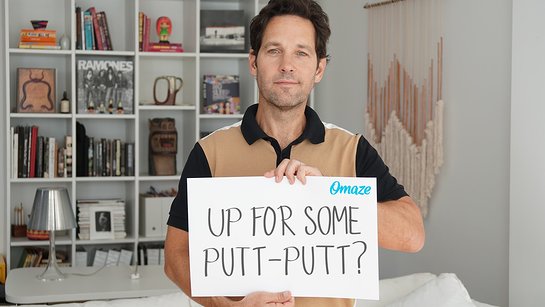 omaze.com is giving one lucky winner the chance to win this amazing experience. Paul Rudd knows a thing or two about shrinking things down to size. He also knows about having a good time. And that's why — as you'll discover — Paul Rudd is the best mini golf partner on earth! True facts only. You and a friend will join Paul in New York City to hit the miniature links and get to know the nicest dude in Hollywood over some good old-fashioned putt-putt.
To get in the draw to win, all you need to do is head over to omaze.com and donate to Reel Start. Founded by educator Adrienne Slover and filmmaker Evan Goldberg, Reel Start provides deserving students from underrepresented communities the hands-on opportunity to learn that film can deliver powerful messages to the public and drive social change. Reel Start students in Toronto and Los Angeles explore behind-the-camera opportunities in the entertainment industry while also developing media literacy skills. Learning from guest speakers, workshops and visits to active productions, the students gain an understanding of the industry while simultaneously using these new skills to write and develop a short film addressing a social issue that is meaningful to them. The program culminates with the students collaborating with an all volunteer cast and crew as they bring their script to life in a single day.