As seen on NBC's TODAY, country music star, and Grand Ole Opry veteran Tim Atwood was recently reunited onstage with fifty-one year Grand Ole Opry member, and country music icon, Jeannie Seely.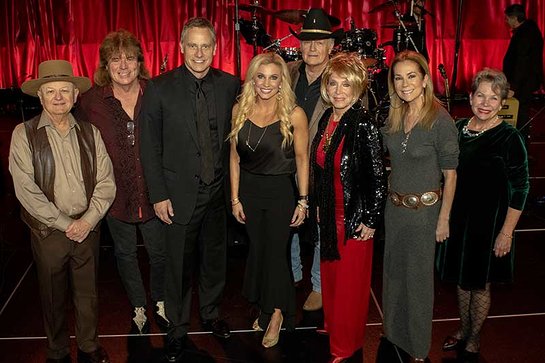 Atwood & Seely – who've accompanied each other many times over the years on the Grand Ole Opry stage – performed a duet of Bill Gaither's gospel classic "There's Something About That Name" at Lipscomb University's Allen Arena for the Fifth Annual 'Nashville Senior Christmas ShinnDig.'
Atwood also sang his latest single, "I'll Stand Up & Say So" from his latest album, Livin' The Dream.
The special event was established to honor Nashville senior citizens by George Shinn and The George Shinn Foundation as a promise to his mother to always remember our seniors. Approximately 800 seniors from the greater Nashville area were served at the free luncheon, highlighted by holiday entertainment, special door prizes, and a car which was given away to a needy individual.
"This is my second year to perform on the ShinnDig, and it is such an honor!" says Atwood. "I love the way George Shinn and the George Shinn Foundation remind us that, in what often feels like a youth obsessed society, our "seniors" are still our most valuable asset. I can attest that life doesn't end when you reach a certain age; with the right frame of mind and perseverance, it just keeps getting better."
Other performers included Kathie Lee Gifford, Charlie McCoy, Julie Roberts and Paul Allen Coons, with Hope Hines joining as the evening's emcee.