The Actors Fund — the national human services organization that fosters stability and resiliency, and provides a safety net for performing arts and entertainment professionals over their lifespan — announced today that television favorites Sarah Drew (Grey's Anatomy) and Oscar Nuñez (The Office) will portray Lucille Ball and Desi Arnaz in I Love Lucy: A Funny Thing Happened on the Way to the Sitcom by Gregg Oppenheimer, on Saturday, March 2 (7pm) at the Writers Guild Theater in Beverly Hills.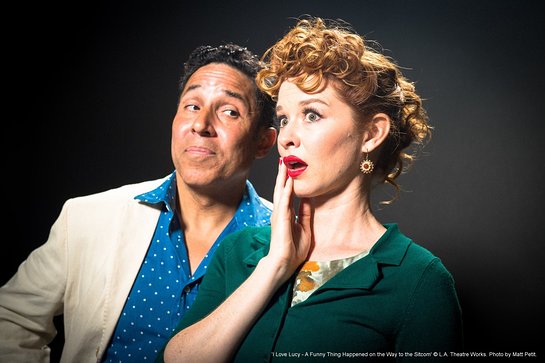 All proceeds from this one-night-only live radio theater performance will benefit The Actors Fund's programs and services. Tickets are now on sale at actorsfund.org/Lucy or via phone by calling 212-221-7300 ext. 134.
The performance will be directed by playwright Gregg Oppenheimer. Rounding out the cast are Seamus Dever (Castle) as series creator/producer and head writer Jess Oppenheimer, Abigail Marks as Vivian Vance, Matthew Floyd Miller as Lucy and Desi's agent Don Sharpe, Philip Proctor as CBS programming chief Hubbell Robinson, Tony Award-winner John Rubinstein as William Frawley and CBS Chairman William S. Paley, and Nick Toren as CBS executive Harry Ackerman.
I Love Lucy, with its onscreen pairing of Ball and Arnaz, remains one of the most popular TV shows in history. Who would have thought that to get on the air, they had to battle both a network and a sponsor who thought the show couldn't possibly succeed? Gregg Oppenheimer, son of I Love Lucy creator/producer and head writer Jess Oppenheimer, is one of the world's foremost experts on the show. "This is a comedy about the comedy business," he says. "It's a true story, but sometimes it almost feels like an episode of I Love Lucy itself."
The radio play premiered last year to sold-out houses at UCLA's James Bridges Theater in a production by L.A. Theatre Works, and has been broadcast nationwide on public radio. It is largely based on Jess Oppenheimer's memoir, "Laughs, Luck… and Lucy," which Gregg co-authored with his father. The audience might be surprised to learn that necessity drove many of the show's famous groundbreaking innovations: the multi-episode story arc, the baby story line, the flashback show and the rerun were all devised to address Lucille Ball's surprise pregnancy (and maternity leave) in the show's second season.
Special One-Night-Only Performance: Saturday, March 2, 2019 at 7:00PM
Writers Guild Theater
135 South Doheny Drive
Beverly Hills, CA 90211
Ticket prices:
$35 reserved seating
$65 VIP seating (includes premium reserved seating and post-show "Desi's Birthday Celebration" reception with the cast- limited number of tickets available)
$15 post-show "Desi's Birthday Celebration" reception with the cast add-on (may only be purchased in conjunction with a $35 ticket – limited number of tickets available).
Find out more here.