Kate Beckinsale was the official host of the LA Art Show 2019 Opening Night Premiere Gala held at the Los Angeles Convention Center on Wednesday, January 23, 2019.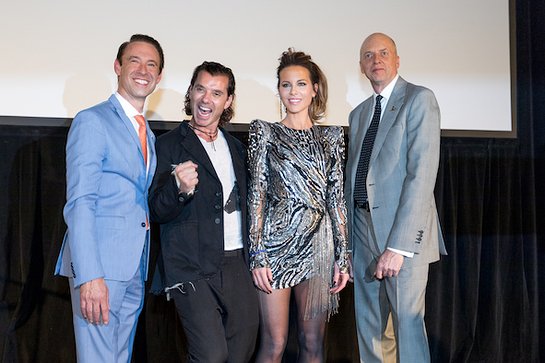 Gavin Rossdale was the evening's Art Ambassador. Proceeds from the event benefited St. Jude Children's Research Hospital for the fifth year in the row. Thanks to generous donors, families never receive a bill from St. Jude for treatment, travel, housing or food – because all a family should worry about is helping their child live.
The Patron Reception featured a special presentation by St. Jude with address by Beckinsale. Attendees enjoyed cuisine by James Beard Award-Nominated Chef Jeffrey Nimer of Haute Chefs LA, and Executive Chef Nick Shipp of The Upper West, desserts from celebrated local chefs Valerie Gordon and Shannon Swindle, NESPRESSO, Cavit Prosecco and delicious hors d'oeuvres from over 20 select LA restaurants.
In addition to food, beverages, live music and art, gala attendees were given a special sneak peek of the LA Art Show's 200,000 sq. ft. of programming, featuring over 100 galleries from 18 countries.