WeRiseUP, a transformational documentary feature and movement about people taking action together to solve small and big problems around the world, held a 2,000 student rally on Monday January 28th at Park City High School to kick off a week of community building and student voter engagement.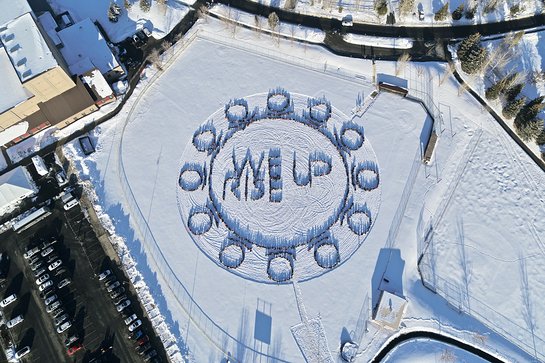 Park City High School students came together to celebrate the WeRiseUP movement and to amplify the work the students are doing to create positive change in their community. A highlight of the rally, the first stop on a nationwide tour, was a spectacular aerial art piece from renowned artist and activist John Quigley, featuring all 2,000 students joining forces to create a striking image in the spirit of "rising up" together to celebrate difference and honor diversity, as well as issue the WeRiseUp First Time Voter Challenge to high school students across America. The goal is to make 2020 the largest first-time voter turnout in US election history. Quigley's unique mix of human installation art and aerial photography focuses on themes of health, human rights, social justice, ecological balance, democracy, and freedom – ultimately striving to liberate the spirit and inspire unity through creative participation.
The official launch of WeRiseUP The Movie & The Movement kicked off on Saturday with a Park City Institute-hosted fundraiser and VIP party, followed by a Sunday VIP event at TAO Park City that boasted a live performance from Paul Miller (aka DJ Spooky). Other key influencers who attended include Tom Chi (Co-Founder, Google X & Inventor of Self Driving Car), Jack Canfield (Chicken Soup for the Soul series), Seane Corn (Yogi & Activist), and actor and philanthropist Kevin Bacon.
WeRiseUP continually seeks to bring together some of the most brilliant, accomplished and high-impact leaders of our day with the ultimate goal of redefining a new model of success that both uplifts & empowers people to live radically fulfilled purpose-driven lives.
"With the world in the midst of a tremendous period of transition, our current success models aren't adequate to support the future that is quickly emerging," said WeRiseUP Creator Kate Maloney. "At this critical inflection point, WeRiseUP curates an intimate inquiry to explore what it will take for humanity to create a thriving future."
WeRiseUP the Movie & the Movement is proud to be an Institute Associate of the 2019 Sundance Film Festival. The launch event was sponsored by Whole Foods Market and its founder John Mackey, Colorado's Oskar Blues Brewery, and Boulder-based fair-trade non-profit Bead for Life.
Join the Movement at www.WeRiseUP.com.