Portia de Rossi was in Rwanda this week for the groundbreaking ceremony of the new Ellen DeGeneres Campus of the Dian Fossey Gorilla Fund.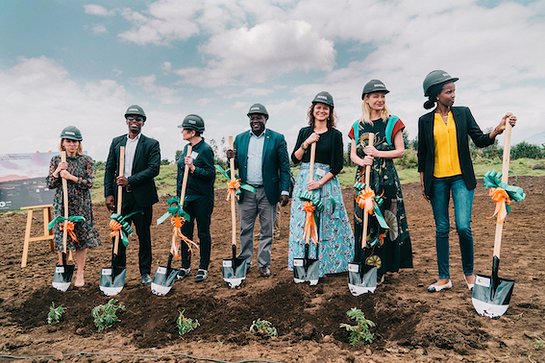 "The groundbreaking was incredible," wrote Portia. "There were dancers, drummers and a lot of inspirational speeches about the potential of the Campus.
"It's going to be amazing — truly state of the art, bringing interactive exhibits to educate tourists and local communities; labs and on-site residence for scientists; and classrooms to train the next generation of conservationists. The Campus construction will employ 1,500 people and millions will be invested directly to the local community!
"In my groundbreaking speech, I spoke about how Ellen was inspired by Dian Fossey when Ellen was a young girl. As I said, "Seeing that brave American woman, a scientist, who left her comfortable life to set up a tent in the Rwandan forest to save a species on the brink of extinction, was transformative for Ellen. It made her see the world differently, and her place within it. Learning about this passionate, committed biologist, and the impact one person can have, was the catalyst for Ellen becoming who she is today — a trailblazer — just like her hero, Dian."
"It is my hope that the Campus will serve as a catalyst, to encourage us all to dream bigger, to know that we too can make an impact and that all of us can become trailblazers — just like Ellen and Dian.
"I talked with Ellen after the groundbreaking, and we're both so impressed and grateful for all the hardworking, caring, compassionate gorilla lovers involved in this project."