The Foundling Museum is honoured to announce that Her Royal Highness The Duchess of Cambridge has become its Patron.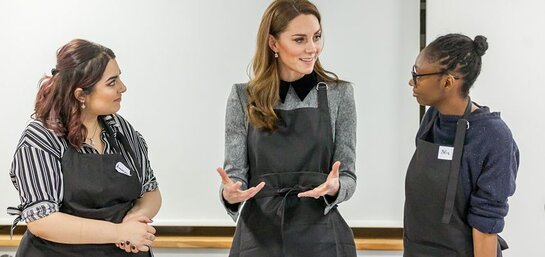 This patronage recognises the Museum's unique work to transform the wellbeing and life chances of vulnerable children and young adults through creative collaboration with artists. Drawing on its landmark history, the Museum improves the skills, confidence and joy in life of young people at society's margins.
The patronage was announced ahead of the Duchess' visit to the Foundling Museum on Tuesday 19 March, when she learnt more about the Museum's pioneering programmes, particularly its training programme for care-experienced young adults and creative projects with young psychiatric in-patients. The celebrated poet and Museum Trustee, Lemn Sissay MBE, wrote and recited a commemorative poem to celebrate the patronage. The poem responds to contributions from young people participating in the Museum's programmes, about their hopes and dreams for the future.
On her visit, the Duchess met a group of care-experienced young adults who have completed the Museum's 'Tracing Our Tales' training programme, which gives young care-leavers the skills to run creative workshops for visitors to the Museum. The Duchess heard the positive effect the training has had on their self-esteem, mental wellbeing, education, and employment at the Museum and beyond. The Duchess joined a training session and was shown around the Museum's current exhibition by the young workshop leaders.
"I feel hugely proud today to be here today to become Patron of the Foundling Museum," said the Duchess in her speech. "Your work connects and celebrates two subjects that are deeply important to me: children, and art.
"I am passionate about improving children's life chances and giving them opportunities, so that they can look forward to the best possible futures, fulfil their whole potential, and have the freedom to explore their creativity.
"I have always believed in the power of art, not only to unlock that creativity, but also to bring us joy, and to inspire, challenge and positively change our lives.
"Your Museum here powerfully links these two forces for good.
"By weaving together the moving stories of looked after children, with art and artists of all genres, you create meaningful learning experiences which will have a lasting, and often transformational, impact on young lives.
"I could not be more delighted to support such a special organisation. I look forward to working together and, as your Patron, hopefully doing all I can to help your important mission in the future."
Her Royal Highness' acceptance of the role of Patron follows a previous visit to the Foundling Museum in December 2017, when she met families and children who have benefited from the Museum's work.