DSW Designer Shoe Warehouse (NYSE: DBI), a leading branded footwear and accessories retailer, today announced a new shoe donation campaign made possible by DSW's 26 million VIP loyalty members.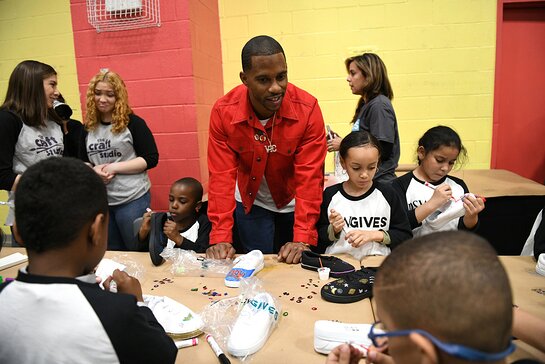 The campaign celebrates DSW's robust community donating a staggering 1 million pairs of shoes in the past year. Contributions from customers and DSW have also enabled 100,000 pairs of new shoes to be distributed to kids in need nationwide this summer, just in time for back to school.
Former New York Giants player and fashion industry favorite Victor Cruz kicked off the campaign on May 9 at BronxWorks in New York City by hosting the first of eight shoe donation ceremonies for kids with DSW Gives' philanthropic partner Soles4Souls. During the afterschool ceremony, Cruz surprised over 100 kids with new shoes from DSW, encouraging them to express themselves by customizing their new shoes. The kids also laced up their new kicks and received a once in a lifetime opportunity to throw a football with one of the NFL's most coveted players.
"I was excited to join DSW in distributing the first round of shoes to kids because style and giving back are such huge parts of my life," said Cruz. "It's amazing what kids can accomplish with something as simple as a pair of shoes – it makes them feel like they can run faster, jump higher, and sparks their sense of style and confidence."
"With his deep ties to fashion and charity, Victor Cruz was the perfect choice to kick off our shoe donation campaign with kids who will benefit from our community's generosity," said DSW CMO Amy Stevenson. "We're excited to celebrate our customers enabling thousands of kids across the U.S. to receive a new pair of shoes to help them conquer the new school year."
Launched last year, DSW Gives is a philanthropic platform for the DSW community with partners including Soles4Souls and Be Strong. Next up, DSW Gives and Soles4Souls will bring the campaign on the road between June – September 2019, donating the remaining shoes to kids in cities including: Atlanta, Dallas, Denver, Nashville, Riverside (CA), Portland (OR), Richmond (VA), and New Jersey. Additionally, this summer, DSW Gives and Soles4Souls are hosting their first-ever service trip where customers will be able to directly take part in the distribution of shoes to a community. The first one will take place in the Dominican Republic in August, with many more to follow.
"We're honored that DSW Gives and Soles4Souls kicked off their shoe donation summer campaign at our Classic Community Center here in the Bronx," said Eileen Torres, BronxWorks Executive Director. "Providing a new pair of shoes and the opportunity to meet a local NFL star inspires a world of possibilities for our children and we're extremely grateful."
To donate and learn more about DSW Gives, visit www.dsw.com/philanthropy.