Longtime friends of 30+ years, Matt Zarley and Tony and Grammy Award winner Billy Porter have teamed up to record a brand new single and music video benefitting homeless LGBT youth.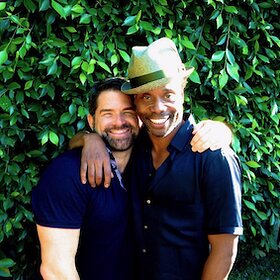 "You Gotta Be" is being released worldwide today on all digital and streaming services worldwide with 100% of the proceeds benefitting Los Angeles LGBT Center's Youth Center. The song, which unequivocally reminds us that "love will save the day," is a reimagined rendition of the classic 1995 Des'ree track. Billy and Matt recently shot a video for the tune at West Hollywood's Quixote Studios, which features 40 additional friends of the pair who donated their time for this special project.
"Billy and I are both passionate about all LGBT causes, particularly ones that involve our next generations," said Matt, who also produced the song as well as directed and edited the video. "We wanted to help raise awareness for this invaluable organization and the work they do. It's incredibly important and is helping save the lives of the youngest and most vulnerable members of our community."
Matt Zarley made his theatrical debut at 17 years old in CATS, at that time the youngest to ever perform in the mega blockbuster. His Broadway career continued with roles in CHICAGO, A CHORUS LINE, THE WHO'S TOMMY, and JOSEPH AND THE AMAZING TECHNICOLOR DREAMCOAT. TV appearances include Disney's Cinderella (w/ Whitney Houston), Geppetto (w/ Drew Carey) & Annie (w/ Kathy Bates), The Drew Carey Show, Fame, The Tonight Show, The Rosie O'Donnell Show, and Smash, among others. An award winning, 4 time Billboard charting recording artist, his albums include: Debut, Here I Am (2008 Billboard Critics Top Ten and American Idol Top 20 Songwriter), and Change Begins With Me (2012 OUTMusic Award for Album & Single Of The Year and #1 for a month on the Eurochart.) He also has the distinction of being the first openly gay man featured in People Magazine's Hottest Bachelors annual issue. He added filmmaker to his resume a few years ago when he released hopefulROMANTIC, an original musical short film he wrote, produced, and starred in. Internet phenom and Star Trek star, George Takei also appeared in the award winning film, which played dozens of international film festivals including Cannes, Mumbai, Montreal, and several stateside festivals. It's now available on iTunes, Amazon Prime, and Revry. Shortly after that successful run, Matt went on to produce his first all cover song album, which was the first album he produced solely on his own. The Estrogen Sessions, is a tribute to some of pop music's most prolific female artists featuring the songs they made famous. "I Will Always Love You", "That's The Way It Is", "Gravity", and "I Look To You" are just a few of the tunes featured on the set. Matt also showcased a duet with his long time, dear friend, Billy Porter (Tony winner for KINKY BOOTS and Golden Globe nominee for FX's Pose). Their single got a revamped remix, specifically for this release. In addition to releasing "You Gotta Be," Matt is also developing a new children's musical project, and has several new and exciting announcements coming very soon!
To learn more about the LA LGBT Center's Youth Center, please click here.