On Friday, May 31, Step Up hosted its annual Inspiration Awards, presented SAS Shoes.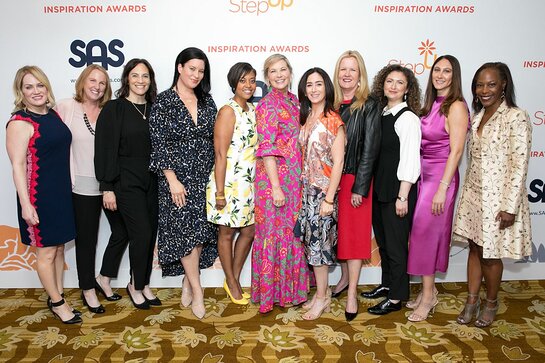 They welcomed guests to a luncheon and reception benefitting Step Up's confidence building programs for girls, and honored She Is The Music, Benefit Cosmetics' Bold Is Beautiful project, and Step Up teen Alondra, for their commitment to this cause. Step Up believes all girls should have the opportunity to fulfill their potential, and the Inspiration Awards raise 45% of the funds Step Up needs to reach girls in the Los Angeles community for one year. This year's event was attended by approximately 700 guests and raised over $520,000.
Among those who attended were Honorees Lauren Jauregui (accepting on behalf of She Is The Music), Annie Ford Danielson (accepting on behalf of Benefit Cosmetics' Bold Is Beautiful project), Teen Honoree Alondra, presenters Erica Ash, Lauren Ash, Regina Hall, JoAnna Garcia Swisher, Kaye Popofsky Kramer (Step Up Founder), Molly Luetkemeyer (Step Up Los Angeles Board Chair), Jenni Luke (Step Up CEO), Nancy Richardson (SAS Shoes CEO), and additional special guests including Andrea Bowen, Tamar Braxton, Amy Brenneman, Rebecca Gayheart, Louise Roe, Arlissa Ruppert, Sarah Jane Morris, Ashley Jones, Chudney Ross, Rachel Boston, Marley Shelton, Christine Lakin, Amy Davidson, Dr. Nita Landry, Jen Lilley, Lisa Sigell, Stacy Arnell, Blanca Blanco, Kimberly J. Brown, Nancy Carell, Stephanie Lemelin, Dawn McCoy, Danielle Nicolet, Sydne Summer, Virginia Williams, and many more!