Here is your chance to go shoe shopping with Sarah Jessica Parker.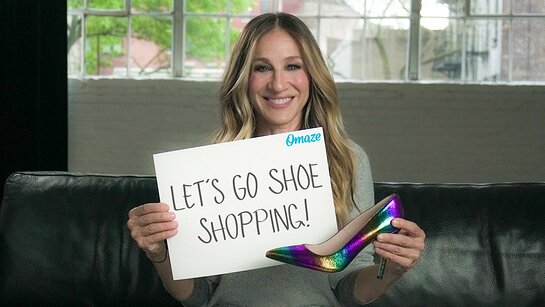 omaze.com has launched a new celebrity charity sweepstakes that could see you winning the once-in-a-lifetime opportunity to meet SJP at one of her NYC SJP Boutiques, and take two pairs of SJP Collection shoes home. All you have to do to enter is donate to charity – the more you donate, the more chances you have to win.
Nothing's quite like the feeling of finding the perfect shoe… but we think this will come pretty close. You and a friend (ideally one who shares a love of shoes) will jet off to the Big Apple to meet actor/businesswoman/forever New Yorker Sarah Jessica Parker for the ultimate shoe shopping experience. Sarah Jessica will help each of you pick two pairs of shoes from her collection to add to your collection. Then you'll share a fabulous champagne toast together in celebration of the amazing day. Flights and hotel in NYC included.
Proceeds from this contest will go to Opening Act. Opening Act seeks to level the playing field for students attending New York City's most under-served public high schools by offering them opportunities to develop leadership, community and commitment through its innovative, high quality and free theater programming. Currently offered at 56 schools in Brooklyn, Manhattan and the Bronx, Opening Act's year-long After School Theater Program teaches improvisation, acting technique and writing exercises. The program culminates in an original production created, written and performed by the students in a professional theater. The program provides a safe, inclusive and supportive environment so that students feel empowered to share their stories. Your donation will help Opening Act achieve its vision of giving students attending New York City's most under-served public schools the opportunity to gain confidence, pride and the knowledge that they can succeed at anything in life.
To find out more, and to enter, visit omaze.com.