GLAAD, the world's largest lesbian, gay, bisexual, transgender, and queer (LGBTQ) media advocacy organization, announced recipients for the remaining 13 of this year's 27 categories for the 30th Annual GLAAD Media Awards.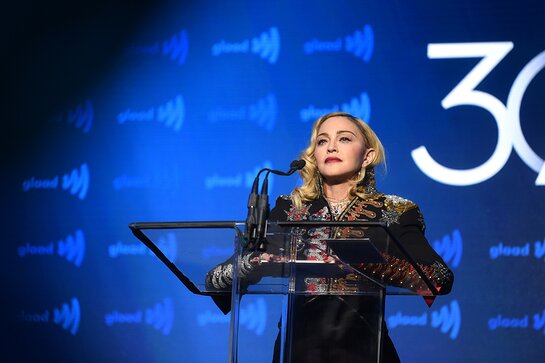 Madonna received the Advocate for Change Award from Anderson Cooper, while Andy Cohen received the Vito Russo Award from Golden Globe-winning actress Sarah Jessica Parker at the star-studded ceremony at the Hilton Midtown in New York. The 30th Annual GLAAD Media Awards in New York were hosted by drag superstar Shangela.
The New York City ceremony will air exclusively on Logo on Sunday, May 12 at 8pm ET/PT.
In her remarks, Madonna said: "As soon as you really understand what it means to love, you understand what it takes to become a human being and that it is every human's duty to fight, to advocate, to do whatever we can and whatever it takes. MADAME X is a FREEDOM FIGHTER."
The 30th Annual GLAAD Media Awards honor media for fair, accurate, and inclusive representations of LGBTQ people and issues. The 30th Annual GLAAD Media Awards are presented by Delta Air Lines, Gilead, Hyundai, Ketel One Family-Made Vodka, and Wells Fargo.
At the event, celebrities sported blue "&" pins for GLAAD's Together movement – GLAAD's campaign to represent the power of solidarity and great accomplishments that occur when marginalized community groups – including women, Muslims, Black americans, immigrants, people of color, and LGBTQ people – stand together.
Following is a complete list of GLAAD Media Awards presented on stage or announced during the event in New York City (acceptors tentative). Additional awards were announced earlier this year in Los Angeles.
Advocate for Change Award: Madonna [presented by Anderson Cooper, Rosie O'Donnell & Mykki Blanco]
Vito Russo Award: Andy Cohen [presented by Sarah Jessica Parker]
Outstanding Drama Series: Pose (FX) [accepted by: creators Ryan Murphy and Steven Canals, and cast members including Billy Porter, Janet Mock, Mj Rodriguez, Indya Moore, Dominique Jackson, Angelica Ross, Our Lady J, Dyllon Burnside, Hailie Sahar, and Ryan Jamal Swain; presented by Rachel Brosnahan]
Outstanding Variety or Talk Show Episode: "Trans Rights Under Attack" Full Frontal with Samantha Bee (TBS) [accepted by: Samantha Bee; presented by Adam Rippon and Lilly Singh]
Outstanding TV Journalism Segment: "Same Sex Couple Reacts to Supreme Court Ruling" CNN Tonight with Don Lemon (CNN) [accepted by: Don Lemon; presented by Mj Rodriguez, Indya Moore, and Dominique Jackson]
Outstanding Film – Limited Release: Boy Erased (Focus Features)
Outstanding TV Movie or Limited Series: The Assassination of Gianni Versace: American Crime Story(FX)
Outstanding Music Artist: Janelle Monáe, Dirty Computer (Bad Boy Records)
Outstanding TV Journalism – Newsmagazine: "Conversion Therapy: God Only Knows" CBS Sunday Morning (CBS)
Outstanding Newspaper Article: "He Took a Drug to Prevent AIDS. Then He Couldn't Get Disability Insurance." by Donald G. McNeil Jr. (The New York Times)
Outstanding Digital Journalism Article: "Bermuda Same-sex Marriage Ban Means Trouble for Tourism and Cruise Ships" by Ryan Ruggiero (CNBC.com)
Outstanding Digital Journalism – Video or Multimedia: "March for Our Lives and LGBT activism. 'They're definitely linked for me,' says Emma González" by Beth Greenfield (Yahoo! Lifestyle)
Outstanding Blog: Pittsburgh Lesbian Correspondents
Outstanding Scripted Television Series (Spanish-Language): Elite (Netflix) and Mi marido tiene más familia (Univision) [TIE]
Outstanding TV Journalism Segment (Spanish-Language): "Primera Pareja Gay en Casarse en un Consulado Mexicano" Noticias Telemundo Mediodía (Telemundo)
"Over the past 30 years, images in media have evolved to celebrate the unique and dynamic stories of LGBTQ people and accelerate acceptance for the LGBTQ community," said GLAAD CEO and President Sarah Kate Ellis. "This year's award recipients like Pose and Don Lemon showcase what it means to move the needle forward, as they bring diverse and critical LGBTQ stories and issues to the forefront of mainstream media."
On March 28, GLAAD honored Beyonce & JAY-Z with the Vanguard Award and Sean Hayes with the Stephen F. Kolzak Award at the 30th Annual GLAAD Media Awards in Los Angeles.