Zendaya teamed up with school supply company Yoobi last week to make back-to-school special for 450 students at an elementary school in her hometown of Oakland, CA.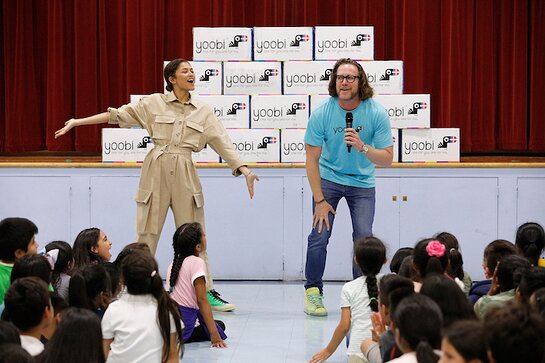 For every item the company sells, they donate one school supply item to a child in need here in the United States. The donation event took place at Global Family Elementary school in the Oakland Unified School District, where Zendaya surprised a gymnasium full of students with an appearance and the special announcement that every student would be getting free Yoobi school supplies.
Following the assembly, Zendaya visited a fifth grade classroom – the same grade that her mother taught in the very same district – and personally handed out school supplies alongside Yoobi volunteers. Students received pencil cases filled with 14 essential school supply items, including crayons, markers, pencils, erasers, rulers, glue sticks and more. Zendaya colored with the students and one student was awarded the Yoobi Changemaker Award for her outstanding efforts in the classroom, and her personal drive to be a leader at school and in the community.