The Samuel Waxman Cancer Research Foundation (SWCRF) 22nd Anniversary Collaborating for a Cure Gala raised a record of nearly $6 Million for innovative research studying cancer genetics and metastasis.
The event sold out in advance, drawing nearly 1,000 guests who celebrated the SWCRF's research achievements, and honorees Kobi Halperin, Valery Joseph, and Marc Taub, who received the SWCRF Collaborating for Cure awards.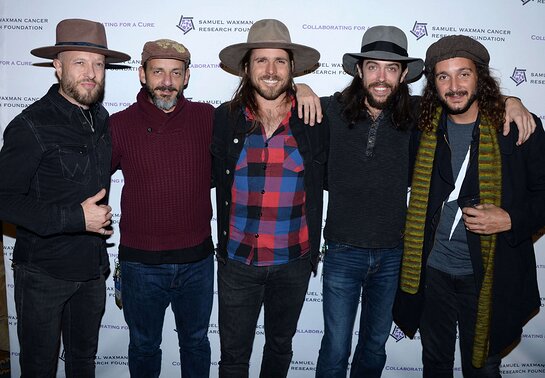 Guests at this year's gala were treated to a special performance by Lukas Nelson & Promise of the Real, who just released their fifth studio album and will finish a tour opening for legendary bands such as The Rolling Stones and The Who. CBS 2's Chris Wragge emceed the event.
Mr. Halperin, Mr. Joseph, and Mr. Taub each shared personal stories of how cancer has indelibly touched their lives. Mr. Joseph received a standing ovation after recounting his late wife Revi Joseph's battle with ovarian cancer, which had gone into remission after her initial treatment only to recur two years later.
"The innovative ways, in which the Samuel Waxman Foundation uses collaborative research, has inspired me to help. Research around how, why, and when cancers come back, is what I intend to focus my fundraising efforts on. When cancers come back, they are usually more aggressive, on the body of the patient, and on the spirit of the entire family."
Mr. Kobi explained that both his mother and aunt are breast cancer survivors and credited them in inspiring his interest in fashion. His father, a Holocaust survivor, and mother and other family members traveled from Israel for the SWCRF Gala. "I grew up in a home familiar with loss and grieving for those who had suffered. And from this loss and anguish came a drive and passion to push forth and an inspiration to not just survive, but to succeed. Thank you for allowing me to join the effort of the Waxman Foundation and their quest to find a cure for this terrible disease."
Mr. Taub was honored for both his philanthropy and leadership as a member of the SWCRF Board of Directors. "The mission of eradicating cancer is a call to our generation. In many aspects of life, we talk about six degrees of separation and the measure of social distance between people. When it comes to cancer, unfortunately, it's never more than one degree. This is why the work of the Waxman Foundation's Institutes Without Walls mission is so critical to saving lives. It's the work that's being done every day that leads us to where we all want to be: with a cure to this insidious disease."
Notable attendees included: Dr. Samuel Waxman, Marion Waxman, Elin Nierenberg, Michael Nierenberg, Jake Taub, Sandy Taub, William T. Sullivan, Donata Minelli Yirmiyahu, Craig B. Thompson, Steven Kolb, Nicholas Santoro, Spencer Waxman, Bettina Waxman, Diego Avanzato, Howard Shlafmitz, Deborah Shlafmitz, Riva Ariella Ritvo-Slifka, Frank Dato, Orital Karelic, Laurie Richter, Dena K. Weiner, Alyssa Greenberg, Cliff Greenberg, Maria Fishel, Bradley Fishel, Erica Fineberg, and Gary Jacob.
The Waxman Gala set a record of nearly $6 million for the SWCRF and their cutting-edge research, which was the most raised in the event's history. Prior to the event, the Gladstein Family presented the SWCRF with a $1 million gift and a challenge to supporters to match their gift dollar-for-dollar. The generous gift will support the SWCRF Gladstein Bladder Cancer Research Program and will fund in part, a research collaboration between the SWCRF and Memorial Sloan-Kettering Cancer Center. Craig B. Thompson, president and CEO of Memorial Sloan Kettering Cancer Center, made brief remarks as one of the Waxman Gala program presenters.
After a lively cocktail reception, host Michael Nierenberg greeted the foundation's board, staff, and the evening's guests with a warm welcome graciously outlining over 21 years of giving and continued support from the organization's donors. Chris Wragge came to the stage and introduced SWCRF founder and CEO Dr. Samuel Waxman to the stage who thanked everyone for their continued support before introducing honoree Valery Joseph who spoke about his wife's battle with ovarian cancer, and how he came to support the foundation.
After a delectable dinner, honorees Kobi Halperin and Marc D. Taub were each presented a special award for their continued support for the foundation, as well as spoke about their personal family experiences with battling cancer. Keeping up the momentum, the evening's live auction, led by Hugh Hildesley, Executive Vice President of Sotheby's, featured luxury items and experiences including: a Palm Bay Italy Winery experience; not one but TWO Cockapoo Puppies; and meet-and-greet with the evening's musical guests, Lukas Nelson & Promise of the Real, who also autographed a guitar for the lucky winner
This year, the SWCRF has so far funded more than $2 million for a record of fifty world-class scientists who are working collaboratively to research cancer.
For more information on SWCRF, visit: www.waxmancancer.org