Having spent 6 months working intensively with the charity sector, Mary Portas, Britain's leading retail guru, came to a singular and focusing conclusion. Rather than taking advantage of the economic downturn to prosper, the vast majority of 5500 Britain's charity shops had become smelly places products go to die.
Through Saturday 27th June, Mary Portas with Grazia, helped by celebrities and many friends across the worlds of fashion and retail, will offer a new kind of second hand shop in the luxurious surroundings of the Village at Westfield London: A shop which sits at the heart of a community; a shop people want to be in – a living and giving shop.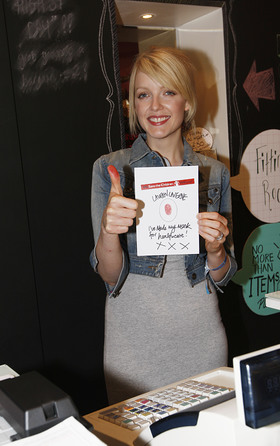 DONATE DON'T DUMP!
In her work with the sector, despite the fact that 75 percent of women have 14 items of clothing (collectively worth £7 billion) which have never seen the light of day, Mary's most distressing realization was that a charity shop's fundamental problem was the quality of donations. For her Living and Giving shop at Westfield London, who have donated the space free of charge, Mary has teamed up with Grazia magazine to encourage their thousands of fashion savvy readers to give unwanted but not neglected products to the shop. In addition, Grazia has asked the world's most influential people and desirable brands to donate. So far, Sarah Mower of American Vogue has offered some serious designer goodies, Prada, Burberry, Mulberry, Luella Bartley and Savannah Miller have offered clothes while presenter Brix Smith-Start has donated a work of art and a Miu Miu skirt suit!
WHERE DOES THE MONEY GO?
All the money raised will go to three key national charities – Save the Children, Trees for Cities and Mind.
Save the Children help save the lives of the 10 million children who die under the age of five each year. Every three seconds a child dies from a preventable disease – that's 30,000 children every day dying from diseases like diarrhea, pneumonia, malaria and measles. It doesn't cost much to save a child's life and every item bought counts.
DO THE FASHION MATHS!
Buying a £5 T-shirt from Mary's Living & Giving shop = a family a mosquito net to sleep under and stop them catching deadly malaria.
A £30 handbag = a life-saving water filter.
A £100 dress donated by a designer = a kit of vital medical supplies for a clinic in one of the world's poorest communities.
MARYS TEAM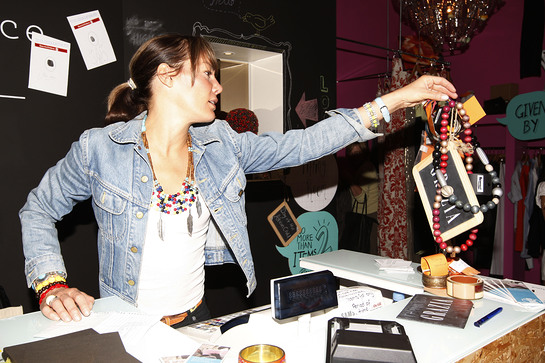 The shop will be manned by celebrity volunteers, celebrity ambassadors, Grazia staff and charity helpers along with handpicked fashion designers, writers and stylists invited by Grazia. Mary has also asked everyone in her retail agency Yellowdoor to join the effort. Television presenters Tara Palmer Tomkinson and Lauren Laverne have already spent time helping out, and Meg Mathews will be dropping by on Tuesday 23rd from 11am to 1pm to help out in the store.
WHATS ON SALE?
The shop will sell designer and high street fashion items, books, music, art and whatever else Mary determines to make the grade. Anything which doesn't won't make the shop floor. A living and giving shop isn't a dumping ground for your old rubbish. In addition, Mary has asked her friends at West London's chicest nursery Petersham Nurseries to sell plants, herbs and flowers.
MONDAY 22nd Swarovski day: Swarovski are doing side window, donating bags and jewels, scattering crystals and making the shop look super sparkly!
TUESDAY 23rd Highstreet drop day: Oasis have donated 100 pieces of this season's most fashion-forward stock, and are doing a special window to mark the event.
WEDNESDAY 24th Beauty day: pampering treats from Crabtree & Evelyn, Daniel Hersheson, Boots No7, L'Occitane, Green and Spring, Nubobeauty.com, Maybeline , Garnier, Body Shop and Neal's Yard, who will also be offering hand massages and skin consultations to visitors to the shop!
THURSDAY 25th Deco day: homeware goodies from Habitat, Descamps, Whittard, Alessi and Dwell.
FRIDAY 26th Bright New Things day: sportswear label Hari will be donating 50 pieces and helping out in the shop. The face of Hari, model Tolula Adeyemi, and owner Lainey Sheridan-Young are volunteering behind the counter.
SATURDAY 27th (CLOSING DAY): Get It Before It Goes Day: 10% off discount everything in store.