By Richard Barker on
Look To The Stars' Richard Barker – nominated as Britain's Most Inspiring Fundraiser and organizer of the Chefs for Heroes event – caught up with a group of celebrities with a cause last week and filed this special interview.
On Friday night I was fortunate enough to spend some time with the four beautiful women who make up the dazzling electric string quartet, Bond. I had asked them to donate a performance to "Chefs for Heroes", a fundraiser for the British charity Help for Heroes. They graciously accepted my invitation and helped us to raise over one hundred thousand pounds. I cannot begin to thank them enough for making it an unforgettable event.
Bond has been described as the best selling string quartet of all time and consists of Tania Davis (violin), Eos Chater (violin), Elspeth Hanson (5-string violin/viola) and Gay-Yee Westerhoff (cello). They have sold over 4 million records. Their debut album Born was removed from the UK classical chart because it was criticized for sounding too much like pop music. Born would later rise the number one position on 21 different charts around the world. Shine, their second album, went gold in six countries. They have released a third CD, Classified, and are currently in the recording studio recording their new album.
I managed to interview the girls prior to their performance:
What made you decide to help us with Chefs for Heroes?
Gay-Yee: It is fantastic thing to be involved with. My father is in the RAF. He was really impressed when I told him about Chefs for Heroes.
Why is Help for Heroes important?
Gay-Yee: The money is going towards a terrific cause. We should never forget that we can always do more for these brave young men, returning home injured, some of them horrifically. We are honoured to be helping make people aware of this incredibly important charity.
Eos: I have been following our heroes on television. I'm really pleased that we can help. Those soldiers returning injured should never be forgotten. We are so happy to be contributing to the vital rehabilitation work – both physical and emotional – being undertaken at Headley Court [a hospital for injured soldiers].
Do you have any final comments?
Bond: We hope that everyone tonight enjoys our music – we are not only happy, but honoured, to be supporting Help for Heroes. Thank you for inviting us guys!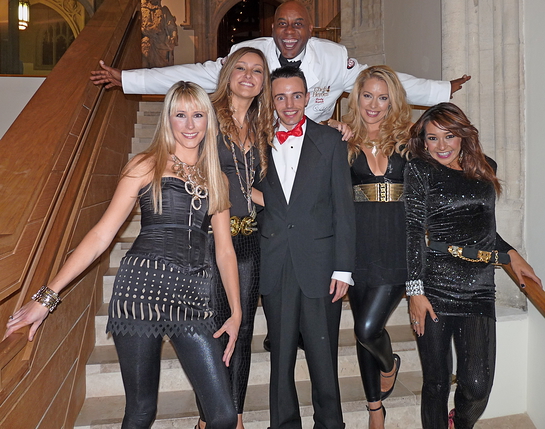 The girls' performance was magnificent! At the end of night I became quite emotional. The girls took the time to meet some of the patients from Headley Court. The event was a tribute to these heroes. I'm really pleased that they enjoyed the performance and I'm delighted that we were able to give them a night to remember. This was definitely a highlight of my fundraising career.
I'd like to take this opportunity to thank them for their support. I'd also like to thank their manager Terri Robson for helping me to make this possible.
Finally, thank you Look to the Stars readers for giving a young fundraiser a chance to share his inspiring stories.