By Richard Barker on
Look To The Stars' Richard Barker was lucky enough to be invited to a very special celebrity charity event in London last week and filed this report.
I have a confession… I love Christmas! It is my favourite time of year. One magical part of this celebration are the lights. I was fortunate enough to be invited to Harrods this year to watch 'The Emerald Lights Switch On'. Dannii Minogue and the Harrods Chairman Mohamed Al Fayed transformed the World's Most Famous Department Store into the Emerald City for Christmas.
This Christmas, Harrods has teamed up with Warner Brothers to celebrate the 70th Anniversary of the iconic film The Wizard of Oz – and as part of the celebrations is helping to raise £300,000 for the Great Ormond Street Hospital Children's Charity.
Harrods has transformed itself into The Emerald City as 11,500 bulbs that decorate the store's famous façade turned from white to a glittering green. International singing and television star Dannii Minogue and Harrods Chairman Mr Al Fayed switched on the lights to make the store's dazzling transformation.
Dannii and Mr Al Fayed were accompanied by ten year old Dominic, a patient of Great Ormond Street Hospital. Dominic was born with foetal alcohol syndrome, a condition which meant he underwent major heart surgery at three years old and has continued to be a regular visitor at the hospital.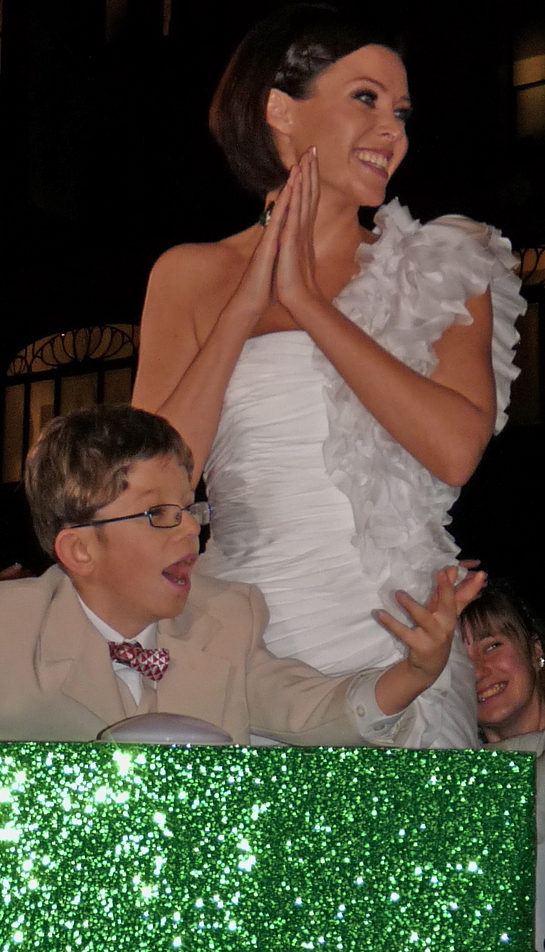 As part of its Wizard of Oz Christmas season, Harrods is helping to raise £300,000 for Great Ormond Street Hospital Children's Charity to fund 3 bedrooms in the new kidney unit, which will make a real difference to the lives of the patients and families.
Customers are invited to lend a hand in Harrods Emerald Palace switch-on by visiting Harrods.com and donating to Great Ormond Street Hospital Children's Charity, to help make the holidays special for the less fortunate. Visit Harrods.com to make a minimum donation of £10 to benefit Great Ormond Street Hospital Children's Charity.
Children from GOSH met the Harrods Chairman and opened the exclusive Ruby Slipper Boudoir. Limited numbers of the magical shoes are on sale priced from £19.95 and available in a junior size 4 to an adult size 8, and 10% of the fee from each pair sold will go to GOSH.
I would highly recommend that you pay Harrods a visit this Christmas.