By Richard Barker on
Look To The Stars' UK Correspondent Richard Barker was lucky enough to attend the star-studded Make-A-Wish Foundation's Winter Ball in the UK, and filed this report and photos.
I was invited to meet the celebrities at the Make-A-Wish Foundation Winter Ball on Saturday 28th November. It was their 17th annual star-studded ball. The evening raised funds to grant more magical wishes to children and young people fighting life-threatening illnesses.
The ball, held at The Dorchester hotel on London's Park Lane, was attended by celebrities including Nicola Roberts and Sarah Harding of Girls Aloud, as well as celebrity chef Ainsley Harriott, and actors Bradley Walsh and Freddie Highmore.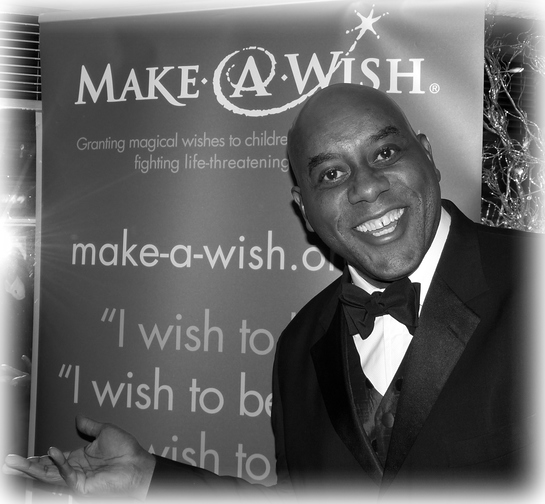 Entertainment included a stunning performance from the cast of West End's Mamma Mia and songs from R&B and dance music singer, Jocelyn Brown.
Phenomenal auction prizes included tickets to the premier of new film Avatar; a signed helmet especially designed for and worn by Jenson Button at this year's British Grand Prix; a package to the 2010 US Masters; a selection of luxury holidays including 10 days in Thailand and a trip for two to a French chateau as well as a wide selection of fully authenticated memorabilia from sporting and music legends, such as a dresses worn by Girls Aloud during their tour.
Neil Jones, CEO of Make-A-Wish says of the night: "We are delighted with the success of the evening and the generosity of the guests. Our heartfelt thanks go out to our much valued volunteers and ball committee members – especially patrons John Leigh, Leslie Rose and Graeme Sands – for organising yet another outstanding event. As a result, Make-A-Wish will be able to grant many more magical wishes for the hundreds of children who turn to us each year."
The Make-A-Wish Foundation grants wishes throughout the year. They bring a little magic and hope to the children's lives. A truly inspiring cause!