Stars For A Cause, with the Chrysler Group, is to auction off a car autographed and personalized by recording artist and film star Christina Aguilera to benefit the United Nations World Food Programme.
This 2010 Chrysler 300 eco style Edition car will be auctioned during the second annual Dan Kruse-Leake Collector Car Auction at the Gonzalez Convention Center in San Antonio on April 10 at 2pm.
Christina Aguilera was selected to personalize this one-of-a-kind, vanilla exterior and cactus interior luxury car. The eco style edition uses recycled materials, such as recycled rubber for the floor mats, bamboo wood interior, 100% recycled metals, and includes a fuel efficiency system that reduces the 8 cylinder engine to 4 cylinders when necessary.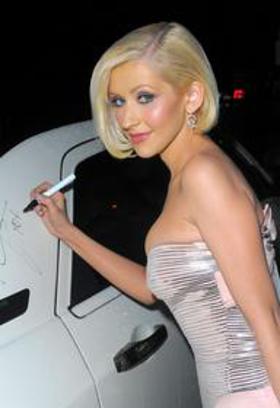 "We were delighted when Christina Aguilera agreed to autograph and personalize the 2010 300 eco style Edition car that was generously contributed by the Chrysler brand," said George Braunstein, co-founder of Stars For A Cause, a 501©(3) not for profit organization. "We have chosen Leake Auction Company for their experience in charity auctions, their honorable reputation, and their location in the heart of America as a symbolic gesture."
"We have established a wonderful relationship with Stars For A Cause to auction several celebrity cars in 2010," stated Richard Sevenoaks, president of Leake Auction Company. "When each celebrity car is auctioned, the proceeds benefit a charity of the celebrity's choice. The charities desperately need additional funds right now, and we are honored to help through this auction, as well as our other auctions this year."
Stars For A Cause will auction the car with 100% of the proceeds generated going to the United Nations World Food Programme, with relief going towards Haiti.
Stars For A Cause is a unique charity fundraiser. Launched in 2006, Stars For A Cause has helped raise money for various charities through the help of celebrities and the Hollywood community. Most recently, Stars For A Cause, in collaboration with the Chrysler Group, was proud to auction off a Chrysler 300 "Haiti" edition signed by hundreds of celebrities at the 2010 Golden Globes red carpet to benefit the American Red Cross Haitian Relief Fund on Saturday, February 20. This one-of-a-kind vehicle auction generated $112,400 ($100,000 from bidders, $10,000 from Leake, $2,400 from attendees) at the Leake Auction Company's annual collector car auction in Oklahoma City.
For information on bidding on Christina Aguilera's customized and autographed Chrysler 300 eco style, visit www.leakecar.com.