Valerie Bertinelli completed the esteemed 26.2-mile Boston Marathon yesterday, just four days shy of her 50th birthday, as part of the Dana-Farber Marathon Challenge team. Bertinelli joined more than 23,000 runners, taking the historic route from Hopkinton to Boston on Monday, April 19th.
Finishing the race in 5 hours, 14 minutes, Valerie personally raised more than $17,000 for the Dana-Farber Cancer Institute.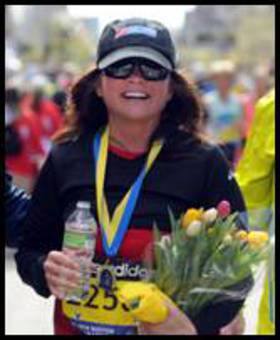 "I'm still in awe of the fact that I just ran the Boston Marathon," exclaimed an emotional and overjoyed Valerie after the race. "At the pasta dinner the night before, I got to meet the patients and the physicians from the Dana-Farber Cancer Institute; and I was more motivated than ever to do this for them. In fact, throughout the course of the run, there were many moments where I needed that extra push and thinking of them and seeing their faces was all I needed. Sprinting towards the finish line, all I heard was the crowd and I knew that I had done this for all the right reasons!
"So many people thought I was crazy for taking on such a herculean challenge. The Boston Marathon is a huge feat! Heck, I even thought I was crazy! But the bottom line is that I wanted a new goal to achieve before my 50th birthday, and I was given a great opportunity to benefit a cause that I'm very passionate about and committed to supporting."
Bertinelli was extremely honored to run the Boston Marathon on behalf of the Dana-Farber Cancer Institute, because her family, like so many others, has been touched by cancer. "In 2005, my Aunt Norma succumbed to colon cancer. She was my Dad's youngest sister, a mother to four daughters and one son, and a light in all of our lives. During the most trying times of this marathon, when I truly thought I couldn't go on, I looked to my Aunt Norma's warm laugh and sunny spirit for inspiration, and I kept going," said Valerie.
Valerie joined more than 550 runners for the Dana-Farber Cancer Institute Team, the group has raised $3.4 million in 2010 thus far, with Bertinelli personally raising $17,000 for the organization.