By Tim Saunders on
People around the world celebrated the 40th anniversary of Earth Day yesterday – and celebrities were no exception, with many of them taking to their official blogs to spread their ideas of making the world a cleaner, better place.
Nicole Richie kicked things off by listing seven things that she does to live green. Under the guise of Captain Planet, she wrote:
1.Carry your own reusable containers to restaurants to bring home your leftovers.

2. Avoid buying bottled water and get a reusable bottle instead.

3. Use biodegradable alternatives to plastic (cups, utensils, plates, bags).

4. Compost all of your table scraps and leftover food — it all goes back into the earth.

5. Ride your bike if you're traveling within two miles of your house (1 pound of CO2 pollution is cut for every mile pedaled).

6. Eat less meat and eat more local and organic foods.

7. My personal favorite: Turn things you might throw away into art projects for your kids — for instance, you can turn a baby food jar into a snow globe.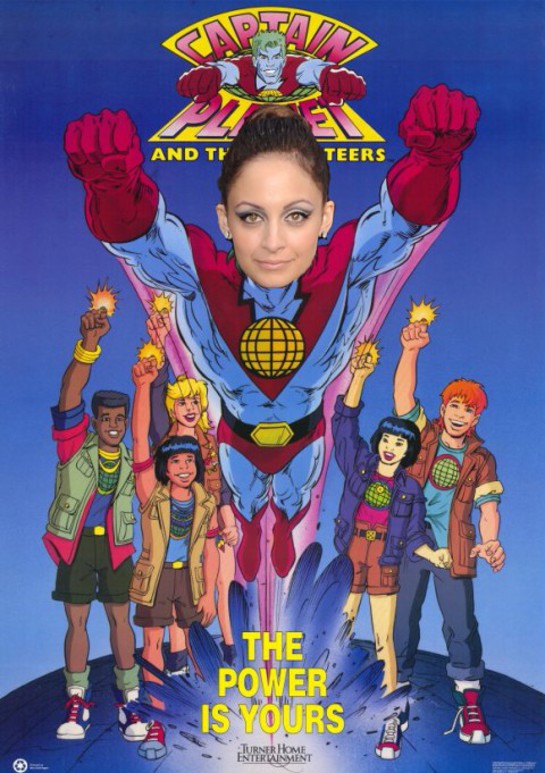 Kim Kardashian – currently in Australia – shared this post:
"Today is Earth Day! Being all the way on the other side of the world and being lucky enough so see so many beautiful places and meet so many fabulous people really makes me appreciate how wonderful our planet is and how fortunate we are. We've all seen recently how fragile the earth can be, with so many earthquakes occurring around the world and then with the volcano eruption in Iceland literally preventing thousands of people traveling. These are things that we can't control… but there are so many things we can control in our own lives to help sustain our planet, conserve energy and educate people around us about the dangers facing our planet.
"Just because you and I won't be here forever, doesn't mean we shouldn't do what we can while we are here to make sure our kids, our kids kids and generations down the line can see the world as we see it now. I want Mason to be able to see all the beautiful places I've seen :) There are so many things you can do today, and every day, to be green! Whether it's turning the water off while you brush your teeth, reusing your shopping bags, riding your bike instead of driving, turn the lights of when you leave a room (I'm reallllyyy OCD about this) or planting a tree in your garden! We all planted a vegetable garden at mom's house last year! What are you guys doing to be green??"
Her sister, Khloe Kardashian, had some tips of her own:
1. Shorter showers
2. Energy efficient appliances and light bulbs
3. Turn all lights off when you leave the house (or even leave a room)
4. Bring a re-usable bag everywhere you go (how cute? WWW.ENVIROSAX.COM)
5. Use cloth towels instead of paper towels.
Read more about what the stars had to say at CeleBuzz.com.