Felicity Huffman, star of ABC's Desperate Housewives, has been named 2010 ambassador for Lee National Denim Day, one of the country's largest single-day fundraisers for breast cancer, benefiting the Women's Cancer Programs of the Entertainment Industry Foundation (EIF).
"I have six sisters and two beautiful daughters—that's eight women who mean the world to me," says Huffman. "I support the Entertainment Industry Foundation and Lee National Denim Day because they fund programs that are making huge strides in breast cancer research and support. When everyone donates $5 each, we are able to raise millions in a single day. It's about coming together to find a solution."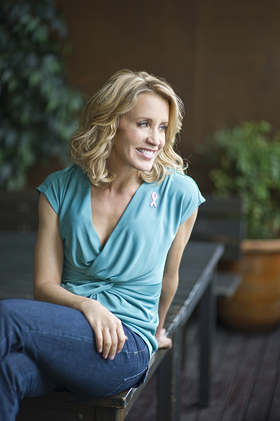 Huffman, whose character Lynette Scavo has battled cancer on the show, will appear in a new public service campaign that encourages people to wear their jeans on Friday, October 8, in exchange for a $5 donation to support crucial breast cancer research and support services.
Starting today, groups and individuals can sign up to participate by visiting denimday.com or by calling 1.800.521.5533. The program provides a free participation kit to those who request it which includes educational materials about breast cancer and supplies to coordinate Denim Day amongst a group of friends, family, or co-workers.
Money raised through the campaign will help the Women's Cancer Programs of EIF to fund:
Lee Translational Laboratories, a collaboration of six of the nation's leading research institutions to find less toxic, more effective treatments.
The

EIF

Breast Biomarker Discovery Project, a multi-year effort led by world-class scientists to develop a blood test for earlier detection of breast cancer when survival rates are the highest.
The Cancer Support Community, an international non-profit dedicated to providing support, education and hope to people affected by cancer in communities nationwide.
"We're so happy to have Felicity on board this year," said Liz Cahill, VP of Marketing and Communications for Lee Jeans. "She is such a passionate supporter for our work with the Women's Cancer Programs of EIF and our new partnership with Cancer Support Community. This year, Denim Day donations will not only help to fund valuable research initiatives; they'll also help support cancer patients and their families, which is an incredibly important part of fighting this disease."
Since its inception in 1996, the program has raised more than $80 million to fight breast cancer. To learn more and hear a personal message from Felicity, visit Denimday.com.
Watch Felicity's new PSA here.