Taylor Swift is the latest star to take part in the "Got Milk?" advertising campaign and to celebrate, you could join the ranks of more than 290 celebrities who have donned the famed milk mustache – including Rebecca Romijn, Jennifer Hudson and Shawn Johnson – and be featured in your very own ad.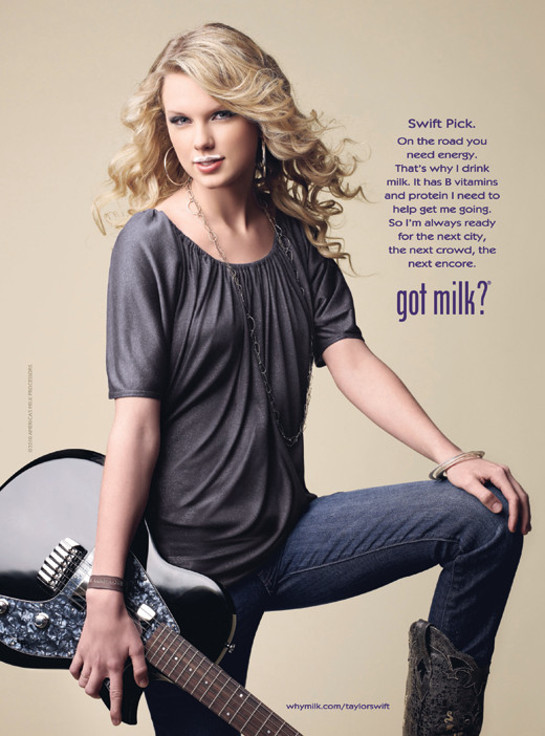 The Milk Processor Education Program (MilkPEP), Washington, D.C., is funded by the nation's milk processors, who are committed to increasing fluid milk consumption. The National Fluid Milk Processor Promotion Board, through MilkPEP, runs the National Milk Mustache "got milk?" Campaign, a multi-faceted campaign designed to educate consumers about the health benefits of milk.
Nabisco Cookies and milk have joined together to give one lucky family a starring role in their very own milk mustache ad. Now through July 15, 2010, fans can visit www.Facebook.com/NabiscoCookies to submit a photo and caption that represent the perfect Nabisco Cookie and milk moment. The winner's family will participate in a professional photo shoot for the ad. The ad will appear in Kraft's Food & Family magazine in 2010.
Photo entries must include any Nabisco Cookie product and a glass of milk, no more than one glass per person in the photo. Once submitted, the photos will become part of the Nabisco Cookies & got milk? Family Photo Album on the Facebook page. There, visitors and fans can view Nabisco Cookies and milk moments from families across the country.
For more information on Nabisco Cookies, the National Milk Mustache "got milk?" Campaign, the contest or to become a fan visit the www.Facebook.com/NabiscoCookies page or to see Taylor Swift's new ad, visit www.facebook.com/Milkmustache.